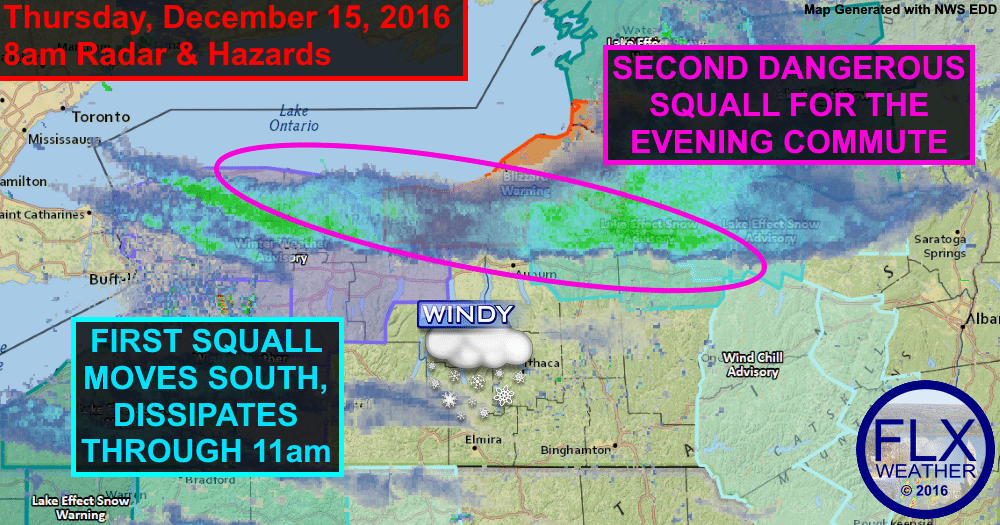 The National Weather Service has issues several warnings and advisories as intense lake effect snow falls in portions of the Finger Lakes.
A Blizzard Warning is in effect for parts of Wayne and Cayuga counties. That warning runs until Friday at 1 am, as wind gusts could reach 60 mph. Sustained winds in these counties will be in the 30 to 40 mph range, which will make travel difficult — as the area is expected to get 5 to 8 inches of snow total by Friday morning.
Those who need to travel in the area should avoid doing so, as temperatures will also be near-zero during this period. Combined with the intense winds, wind chill values will get into dangerous territory.
According to the National Weather Service:
"HEAVY LAKE EFFECT SNOW AND BLOWING SNOW WILL LEAD TO SIGNIFICANT ACCUMULATIONS OF SNOW ON AREA ROADWAYS AND SEVERELY REDUCED VISIBILITIES WITH BLIZZARD CONDITIONS AT TIMES. THIS WILL RESULT IN DANGEROUS TRAVEL CONDITIONS. SOME ROADS MAY BECOME IMPASSABLE AT TIMES. WIND CHILLS OF 1O TO 20 BELOW ZERO TONIGHT WILL ENHANCE THE POTENTIAL FOR HYPOTHERMIA AND FROSTBITE. STRONG WINDS MAY BRING DOWN A FEW TREES AND POWERLINES…RESULTING IN SCATTERED POWER OUTAGES."
The National Weather Service has issued a Winter Weather Advisory for Ontario County, which runs from Thursday at 1 pm until Friday at 5 am. 2 to 4 inches of snow is expected in this area, as lake effect snows make their way south through the region – an extra inch or two of accumulation is possible in persistent bands, according to the National Weather Service.
"Significant" blowing and drifting is possible in the advised area with wind gusts in excess of 45 mph are possible.
According to the National Weather Service:
"PERIODS OF MODERATE TO HEAVY SNOW COMBINED WITH STRONG WINDS AND BLOWING SNOW WILL PRODUCE VERY DIFFICULT TRAVEL CONDITIONS AT TIMES WITH GREATLY REDUCED VISIBILITY AND SNOW COVERED ROADS. WIND CHILLS DROPPING BELOW ZERO WILL INCREASE THE RISK OF FROSTBITE AND HYPOTHERMIA."
Read more about the changing weather conditions today here.
Local Weather Resources:
— Western FLX
— Eastern FLX
— FingerLakes1.com Weather Center
— Thruway Conditions
Send FingerLakes1.com photos of weather in YOUR neighborhood by sharing them on Facebook, Twitter, Instagram, or by email here.
Graphics and Reports from around FLX: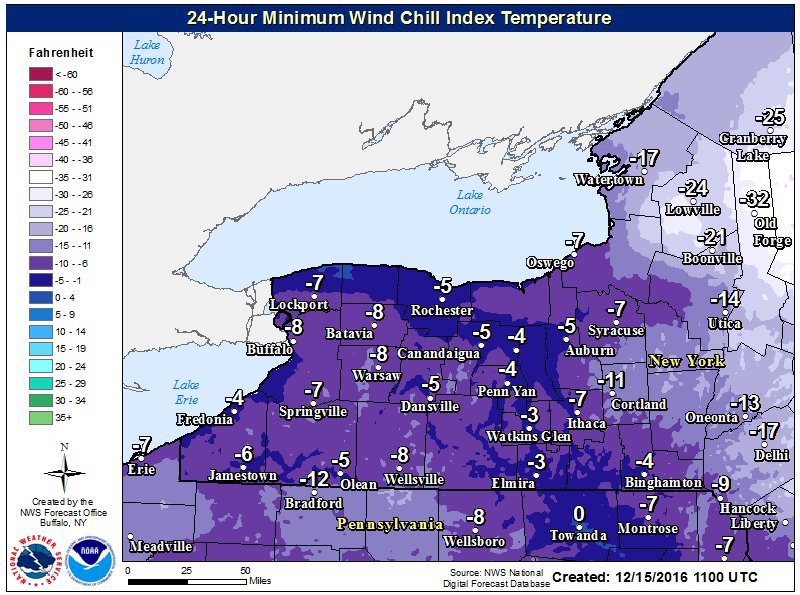 Moderate lake effect snow continues to move inland. Heaviest snow is roughly parallel to route 104. pic.twitter.com/Jq92J8DDmm

— Marty Snyder 13WHAM (@MartySnyder13) December 15, 2016
https://twitter.com/PeteWeatherBeat/status/809371496741097472