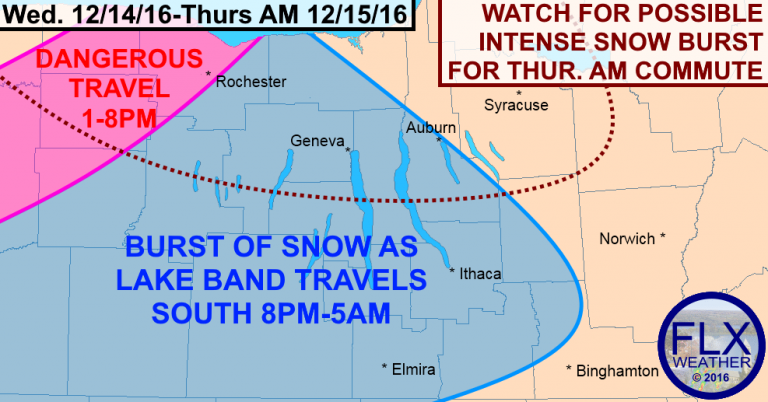 Forecasters are calling the weather that is about to unfold from Rochester to Buffalo 'dangerous' but they're also urging caution to those who will be traveling through the Finger Lakes over the next several days.
A burst of heavy, extreme snow — which could cause near-blizzard conditions around Rochester — will slightly weaken and move south impacting Wayne, Ontario, Seneca, Yates, and Cayuga counties as it does.
The heaviest snow is expected to fall overnight, which will still only yield a 1 to 3 inches of snow. Conditions could rapidly change though, according to FLX Weather meteorologist Drew Montreuil.
These bursts of snow and lake effect will be associated with a cold front, which will bring down the coldest air of the season by far. Forecasters say this type of airmass is the kind that is typically seen at the end of January, or in early-February.
Additional lake effect snows will be possible throughout the next couple days as temperatures crater into the teens for daytime highs. Nighttime lows will fall to near-zero, with wind chills sinking below zero.
Local Weather Resources:
— Western FLX
— Eastern FLX
— FingerLakes1.com Weather Center
— Thruway Conditions
Most wind chill values will be below-zero tomorrow morning. Some will be in the double digits below-zero. pic.twitter.com/iHlNjIRw76

— Marty Snyder 13WHAM (@MartySnyder13) December 14, 2016
Lake effect snow could be heavy downwind of Lake Ontario late Wednesday into early Friday. #NYwx pic.twitter.com/yKQufnyQ6C

— NWS Binghamton (@NWSBinghamton) December 14, 2016
Send FingerLakes1.com photos of winter weather in YOUR neighborhood by sharing them on Facebook, Twitter, Instagram, or by email here.