Farmers from across central New York gathered in Skaneateles Tuesday to discuss the Skaneateles Lake Watershed Agricultural Program's work in 2018 to protect the lake.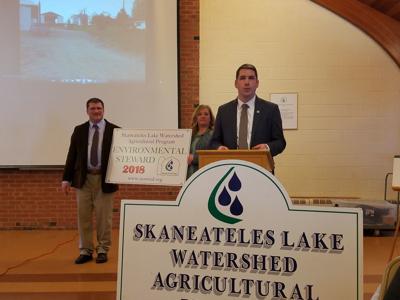 Founded in 1994 by the city of Syracuse, SLWAP is a voluntary program that works with farmers within the Skaneateles Lake watershed across parts of Cayuga, Cortland and Onondaga counties to protect water quality.
At the program's annual meeting Tuesday, where attendees heard from experts on topic's including SLWAP's 2018 projects, precision feeding management, forest stewardship, harmful algal blooms and more, Program Manager Mark Burger said 39 of the 46 farms in the watershed were participating in SLWAP's Whole Farm Planning process.
The plan helps farmers who volunteer to participate to implement best management practices and nutrient management plans on their land to protect water quality.
"Without the support of the farmers, none of this work gets done," Burger said.
The Auburn Citizen:
Read More