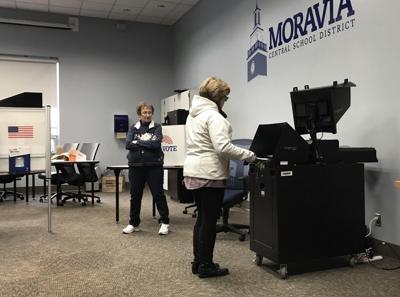 Moravia Central School District voters approved the first phase of a multi-million dollar capital project on Wednesday.
The capital project proposal passed 190-36. The first part of a three-phase project is set to have a $11.5 million price tag, with $10 million in building improvements and a energy performance contract for $1.5 million in upgrades.
The district plans to start bidding for contractors by fall 2019 and expects construction to start by spring or summer 2020 in order to complete the first phase by late 2020 or early 2021. Approval of the proposal also included an additional 10 percent in state aid to the upgrades under the energy contract.
The first phase will include updating all district lighting to LED; upgrades to mechanical, electrical and plumbing systems; and replacing some corridor lockers, ceilings and the middle school gymnasium, according to the district's website explaining the capital project. Safety is set to be a major focus of the project, with the replacement of interior and exterior doors, asbestos abatement in different areas and secured entrances preventing outside visitors from reaching student areas without reaching additional security.
The Auburn Citizen:
Read More