Chestnut Hill, Mass. — One week after being carted out of Yankee Stadium, Eric Dungey was high-stepping through the end zone at Boston College.
The Syracuse football quarterback proved he was healthy enough late in the first quarter on Saturday when he pulled the football from running back Moe Neal's stomach and outran two Eagles defenders to the corner of the end zone.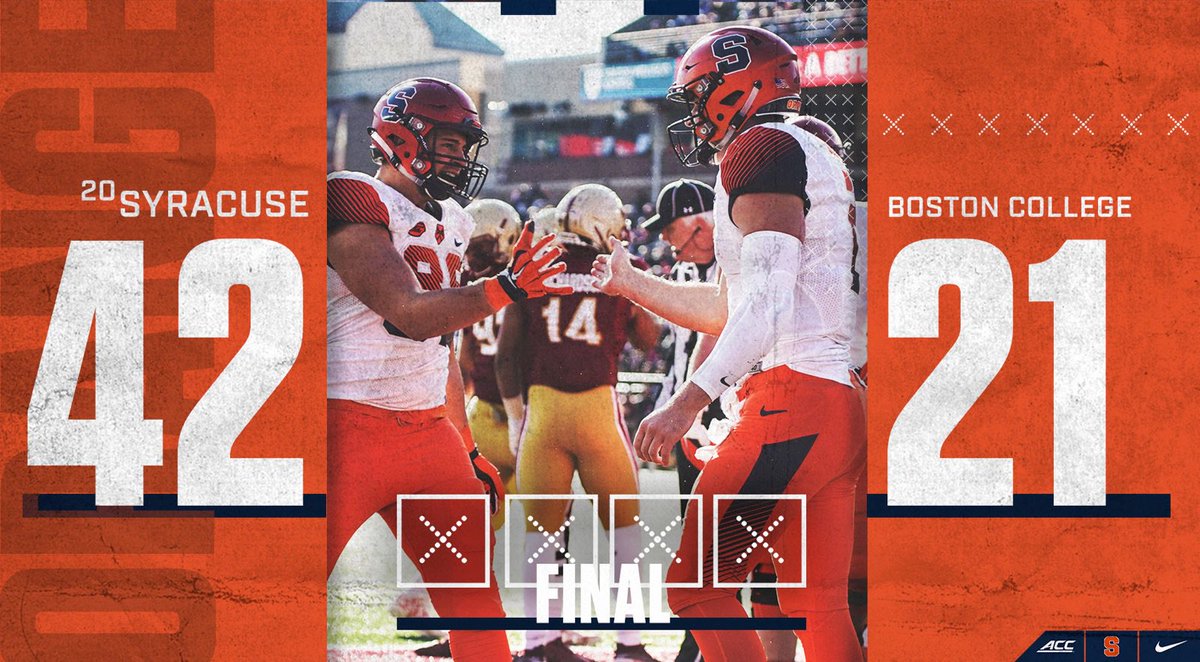 Then he kicked his feet out in celebration, dropped the ball and turned to the BC student section before blowing a two-handed kiss.
The touchdown was the start of a very on-brand performance from Dungey, whose status was never certain until the end of pregame warm-ups. By the time he walked off Alumni Stadium following the 20th-ranked Orange's 42-21 win over the Eagles, he had racked up a career-high six touchdowns (three passing, three rushing) and 396 total yards of offense.
HIGHLIGHTS:
COACH BABERS POST GAME:
WATCH FULL CONDENSED GAME:
MORE COVERAGE & REACTION:
🍊🍊🍊🍊🍊🍊🍊🍊🍊🏈
Congrats @CuseFootball on a great season. Bravo @CoachBabersCuse @EricDungey and the rest of the team. #OrangeNation

— MikeTirico (@miketirico) November 24, 2018
Big mood. pic.twitter.com/dD7btXeYqO

— Syracuse Football (@CuseFootball) November 24, 2018
– Dungey repeats season-long heroics to lead SU to best regular-season finish since 2001 (Daily Orange)
– Three takeaways: Syracuse 42, Boston College 21 (NunesMagician.com)
– When will Syracuse football's bowl destination be announced? (Syracuse.com)
Syracuse finishes its regular season at 9-3, its first 9-win season since 2001 pic.twitter.com/75VU7Jcxk8

— Daily Orange Sports (@DOsports) November 24, 2018
Eric Dungey turned in a memorable performance in his final regular season game for @CuseFootball that capped a tremendous career: https://t.co/lNa9ZUksN3 pic.twitter.com/VSjBwRobYM

— SyracuseOn247 (@SyracuseOn247) November 24, 2018
Eric Dungey joins Zack Mahoney (7 vs PITT in 2016) & Jim Brown (6 vs COL in 1956) as Syracuse players to have 6 TD responsible for in a single game. pic.twitter.com/3bp1fWcrTh

— Syracuse Football (@CuseFootball) November 24, 2018
There goes that man. pic.twitter.com/HitAS52lnt

— Syracuse Football (@CuseFootball) November 24, 2018
---
PREVIEW:
No. 19 Syracuse (8-3, 5-2 ACC) squares off against longtime rival Boston College (7-4, 4-3 ACC) in the final game of the regular season at noon Saturday, Nov. 24. The matchup of former BIG EAST Conference foes turned ACC rivals will air nationally on ESPN, with Bob Wischusen (play-by-play), Brock Huard (analyst) and Allison Williams (sideline) on the call.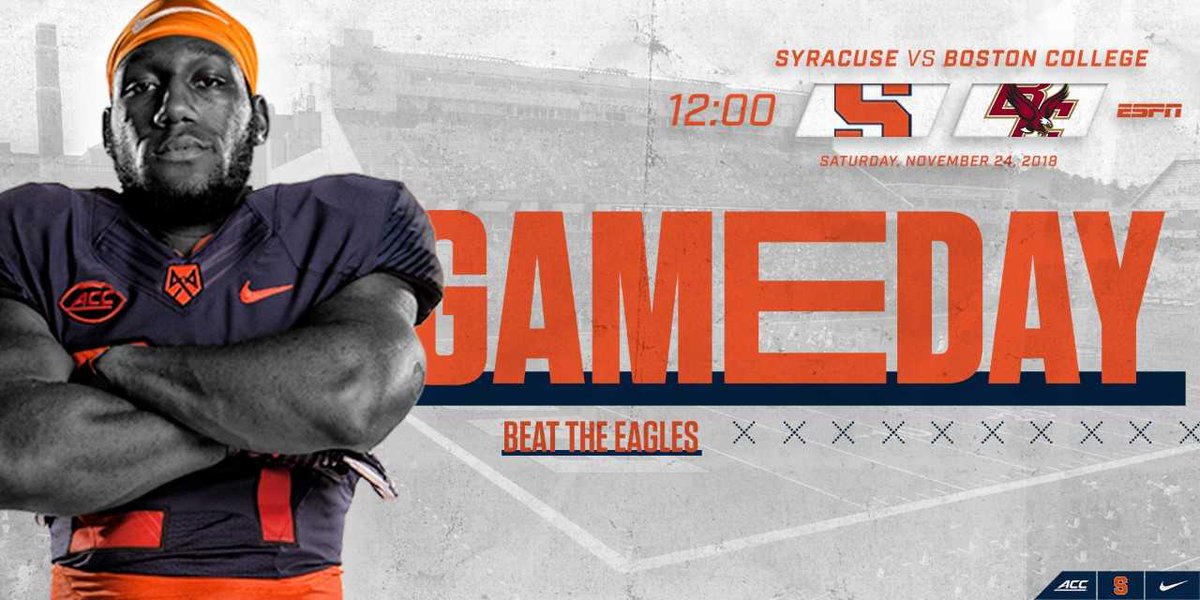 Syracuse, picked to finish last in the ACC Atlantic during the preseason, can clinch second place in the division with a victory. The Orange saw their four-game winning streak snapped by Notre Dame last time out, but a win would make Syracuse 5-1 over the second half of the 2018 season.
Boston College, meanwhile, lost its second straight game to Florida State last weekend. The Eagles are 5-1 at home heading into Saturday's regular-season finale. Read More
– What channel is Syracuse football-Boston College on? TV, time, live stream info (Syracuse.com)
– To stop Boston College, Syracuse needs to stop AJ Dillon (Daily Orange)
– Syracuse vs. Boston College preview: Five things to watch (NunesMagician.com)
– Q&A with the Boston Globe's BC beat writer Julian Benbow (Daily Orange)
– Rex Culpepper is SU's unofficial nutritionist (Daily Orange)
– Beat writers split on outcome of Syracuse's finale at Boston College (Daily Orange)
– Syracuse football's window to win is coming (analysis) (Syracuse.com)
– Edge rushers Allen and Ray create dominant pass rush duo for Boston College (Daily Orange)
– Game day beer picks: Syracuse vs. Boston College (NunesMagician.com)
– Syracuse vs. Boston College: TNIAAM predictions & poll (NunesMagician.com)
– Syracuse football recruiting: Miami safety Cornelius Nunn commits for 2nd time (Syracuse.com)
– Syracuse football recruiting: 4-star LB Mikel Jones commits (Syracuse.com)
On the road vs. a rival.

Let's get it done. pic.twitter.com/SM2ukDaSow

— Syracuse Football (@CuseFootball) November 24, 2018