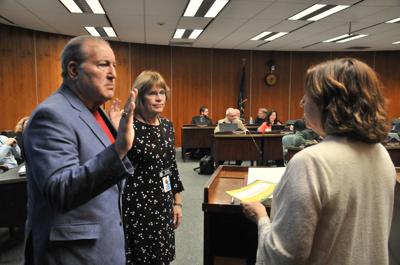 The Cayuga County Legislature approved an approximately $150 million preliminary 2019 budget with a total tax levy of approximately $40.75 million, a 2.4-percent increase over 2018.
The preliminary budget approved by the Legislature Monday is the same as approved by the Ways and Means Committee last week, and includes the reductions that committee approved to bring the budget down from the $40.95 million levy, a 2.9-percent increase, proposed by the county administrator.
Most of the cuts from the tentative budget came from the removal of several salary increases or shifting the hiring dates of new positions. The preliminary budget also lowered the use of the county's fund balance to $806,975 from the tentative budget's proposed $945,536.
Next, the Legislature must hold a public hearing for the budget, scheduled for Nov. 27, at which point they can formally adopt the budget as is or make further changes before a final state-required deadline in December.
Legislators from both sides of the aisle Monday expressed the hope that the the tax rate could be further reduced, with several pointing to a 2-percent increase as a goal.
While reducing the tax levy increase to 2.4-percent from 2.9 was a good start, Legislator Chris Petrus, R-Brutus said he would hope to find further cuts before the final approval.
AuburnPub.com:
Read More