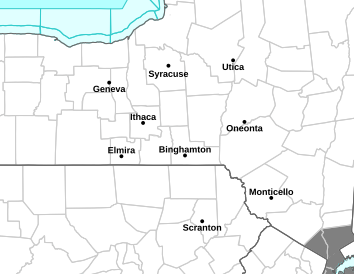 The National Weather Service has issued a Winter Weather Advisory for parts of the Finger Lakes – ahead of a slushy, wet accumulation of 1-3 inches.
It's expected to begin overnight, changing to rain by morning. However, it will mean a complicated commute – as parts of the region, particularly those in the Finger Lakes and Southern Tier – will still be seeing snowfall.
The National Weather Service says the advisory is in effect for Seneca, Schuyler, Steuben, Yates, Tompkins, Cortland and Chenango counties until 11 a.m. on Tuesday.
Forecasters said in the alert, "Mixed precipitation expected. Total snow accumulations of 2 to 5 inches in the higher elevations, with 1 to 3 inches in the valleys." They added, "A very light glaze of ice is possible, mainly across the hilltops."
They said to plan on slippery conditions beginning overnight, and continuing through the morning commute.
By Tuesday afternoon precipitation should switch over to all rain, and really subside to nothing more than spotty showers.
A Winter Weather Advisory means that periods of snow, sleet or freezing rain will cause travel difficulties. Expect slippery roads and limited visibilities, and use caution while driving.
Visit the FingerLakes1.com Weather Center for forecast information. This story will feature the most-recent alerts and information on this weather event.
---
This story will be updated as more information becomes available. For the latest information, including breaking news alerts on your smartphone or tablet – download the FingerLakes1.com App from the App Store or Google Play Store