The Seneca Falls Town Board voted on Tuesday to hire an employee, who had contracts with the Town of Seneca Falls.
Edward Thurston, who operates a local business, was hired by the Town of Seneca Falls as a Wastewater Treatment Plant Operator Trainee. The position pays a little over $21 per hour, and while some concerns were raised – Deputy Supervisor Lou Ferrara said that the process was legal and correct.
"He's giving up his business and needs a job," explained Ferrara on Tuesday before the session started. "He took the civil service test and scored the same as two others when the County gave Joe [Tullo] the list."
.
Ferrara said that there were two people qualified for the position – but one of them had just started with the highway department. "[They] really aren't eligible to move around yet according to the Town Handbook," added Ferrara.
"If the process wasn't clean it wouldn't be getting support from the entire board," continued Ferrara. "I'm in the minority, and [Thurston] is qualified."
Tullo, who leads the water and wastewater treatment facilities – affirmed that the civil service process played out appropriately.
The resolution was unanimously approved with little debate beyond the function of the title. Town Board member Vic Porretta asked if the title being applied to this position was typical, or if there would be specific limitations to the role given that it's a training position.
Tullo said that the position was typical, as were the responsibilities laid out in it.
Thurston Contracting, the business in question, still has building permits open with Seneca County, which suggests that the business has not been closed. However, a former employee tells us that Edward Thurston plans to step away from the business, leaving its operation to a family member.
That former employee tells us that some of the work involves properties owned by the Cayuga Nation.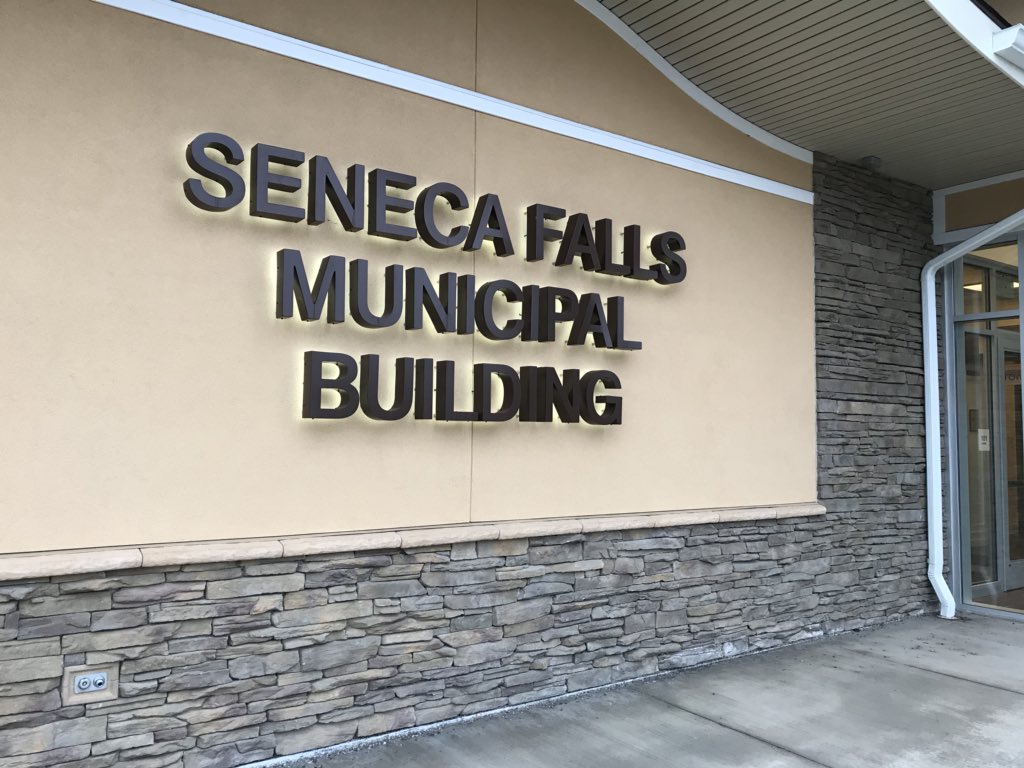 Thurston Contracting has completed work for a number of Cayuga Nation owned properties in the past. A permit check with Seneca County revealed that a home on Farron Road, owned by the Cayuga Nation, was being worked on by the company. That same person noted that there are at least four other 'open permits' that the company, either currently – or formerly operated in partnership with Thurston.
FingerLakes1.com has FOILED for additional information related to specific work completed by the company, past or present.
The Thurston family operates multiple businesses in the area – some of which have municipal contracts with the Town of Seneca Falls.
Town Board Member Doug Avery said the entire situation was 'complicated' and that at least three of the board members were trying to 'understand' the things at play with the resolution to hire Thurston.
"We were shown the Civil Service test list last night prior to the meeting. Ed Thurston was listed the last of five, but the bottom three were all tie scores. We have to chooses from the top three on the list. Technically, he was in the top three," Avery explained. "The next resolution after hiring him was to cancel all of his contracts with the Town."
As for the concern brought up by some residents – that a 'pay for play' situation is shaking out – Avery said it's complicated. "I don't know if it is true or not. It is becoming clear that the relationships are more complicated than we were led to believe," he added. "Right up to the start of the meeting Dave, Vic and I had reservations about this hire. With the information we were given, there really wasn't a reason to block it."