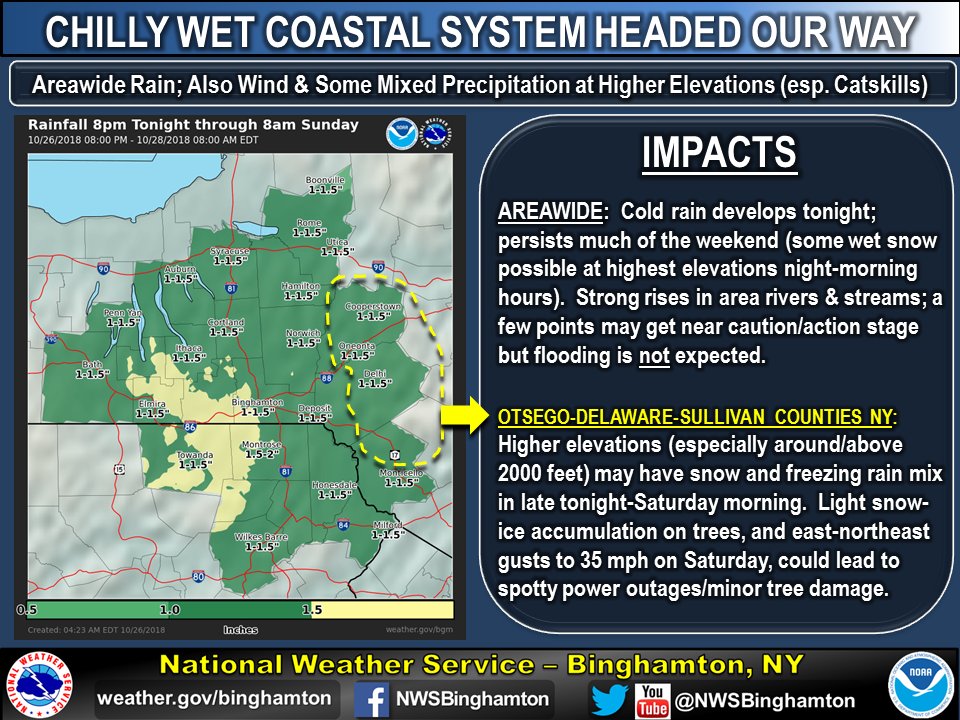 If your plans will be taking you outdoors, or south and east from the Finger Lakes – expect some difficult weather conditions.
A significant nor'easter will impact the region this weekend – bringing heavy rain and wind. That will dominate the forecast on Saturday – as temperatures struggle to exceed 40 degrees.
Worried about snow? Don't be. This storm will be 99% wet, according to forecasters, who say that only a wet flake or two will mix in with precipitation in the hills.
On Saturday, periods of heavy rain and wind will pound the region into the afternoon. The rain will likely let up some by late-afternoon, but even then – frequent showers will remain.
Strong winds will be possible – as gusts between 40-45 mph throughout. A small craft advisory has been activated by the National Weather Service for Lake Ontario. Those communities along the Lake Ontario shoreline will also be hardest hit by winds in this event – as they turn to the northeast when the storm begins to move away.
By Sunday things will improve, but remain cool and wet. A warm-up is expect next week, which will take temperatures into above-normal territory by mid-week.
But, before we get to the weekend here's a look at the rest of this Friday.
---
Daily Forecast
Cloudy with light winds. Slight chance of a shower.
High: 51
Low: 39
Sunrise: 7:37 a.m.
Sunset: 6:11 p.m.
---
Western Finger Lakes (Video Forecast)
Decent weather for our Friday. Rainout for Saturday pic.twitter.com/UN7Fy5BkYw

— Rich Caniglia (@whec_rcaniglia) October 26, 2018
---
Eastern Finger Lakes (Video Forecast)
Here is a quick VIDEO forecast showing you your Dog Walking Forecast, how the weather IMPACTS road conditions through the weekend, & the forecast for the @CuseFootball game Saturday.
I'll show you how much rain & timing of it hour-by-hour/place-by-place NOW on NBC3 Today in CNY. pic.twitter.com/KuHIdzaT5s

— Peter Hall (@PeteWeatherBeat) October 26, 2018
---