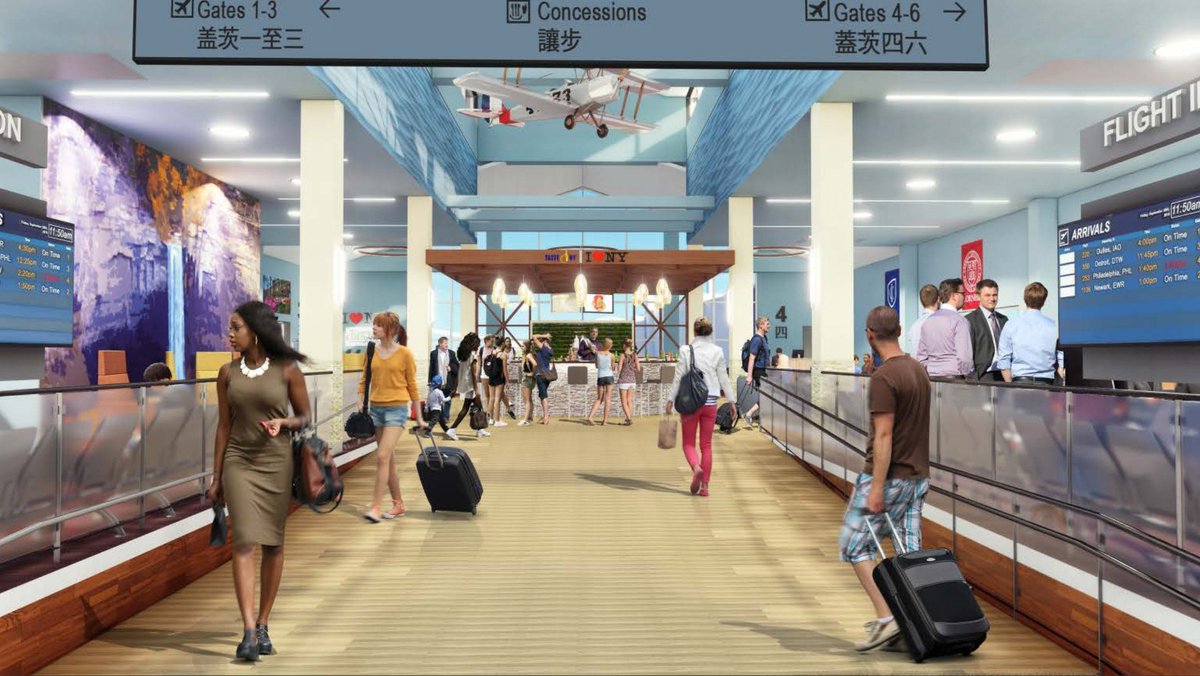 Governor Andrew M. Cuomo was in Lansing on Tuesday celebrating the start of construction on the $24.7 million expansion of the Ithaca Tompkins Regional Airport.
The project, set to be complete in late 2019, will expand the terminal by nearly 50 percent, including the addition of a new U.S. Customs and Border Protection building that will transform the airport into Ithaca Tompkins International Airport upon completion.
Additional improvements will include new passenger amenities, such as more modern and spacious waiting areas equipped with charging stations, and post-security food and beverage options.
"The new Ithaca Tompkins International Airport will be a vital transportation hub connecting visitors from around the globe with destinations throughout the Southern Tier," Governor Cuomo said. "This transformational project will provide the region with a 21st century international gateway that will not only enhance the passenger travel experience, but also encourage new investments in Ithaca and beyond to keep the Southern Tier Soaring.
.
"We're transforming airports across the State to improve transportation options for travelers and enhance the overall experience," said Lieutenant Governor Kathy Hochul. "The groundbreaking of Ithaca Tompkins Airport launches a significant expansion project that will increase the terminal by nearly half and include new passenger amenities. The new airport will help to increase the number of visitors in the region and advance the economy as part of Southern Tier Soaring."
The Governor also noted the recent inaugural United Airlines flight at the airport, which took place on October 4. The addition of this third airline builds on the state's ongoing efforts to expand the reach of transportation hubs across upstate New York.
With the addition of United Airlines, the airport now serves three major airlines with more than 650 global connections. United joins American Airlines and Delta Air Lines in servicing Ithaca Tompkins Regional Airport, which is experiencing significant growth. The number of passengers has increased nearly 25 percent in the last two years–a trend that is expected to continue with the airport's modernization.
All across the state, New York is investing in airports big and small. Today we broke ground on the $24.7 million expansion of Ithaca Tompkins Regional Airport. This expansion will bring more visitors to the Southern Tier and help the upstate economy thrive. pic.twitter.com/hCkEmqxcku

— Archive: Governor Andrew Cuomo (@NYGovCuomo) October 16, 2018
The $24.7 million project to revitalize and expand the Ithaca Tompkins Regional Airport is being supported with $14.2 million in state funding as part of the Upstate Airport Economic Development and Revitalization Competition. The remaining funding is being supported with $10.2 million from federal government and $260,000 from Tompkins County.
To accommodate the growth, this project will expand the terminal by nearly 50 percent, including adding a new U.S. Customs and Border Protection facility. The new Customs facility, which will be directly connected to the terminal and its amenities, will allow international aircraft to fly directly to the airport instead of stopping at a different airport to clear U.S. Customs before arriving in Ithaca. This will save time and hassle for the more than 22,000 international travelers the airport accommodates annually.
The completion of the project and elimination of this travel barrier will ultimately help to enhance the region's ability to grow globally. Overall, the modern technology and energy efficiency enhancements the project will provide will better serve today's travelers.
The larger terminal will also provide more seating, six new gates, new retail opportunities and three additional passenger bridges, bringing the total number of passenger bridges at the airport to four. It also will enhance security and improve service to international travelers.
Facility upgrades will include:
Major security enhancements, including relocating TSA baggage screening and updating it to be compliant with post-9/11 security requirements, as well as adding another lane for passenger security screening to alleviate wait times.
Reconfiguration of the security checkpoint and relocation of TSA office space as part of an 8,500-square-foot expansion of the passenger hold room.
Reconfiguration of airline office space and expansion of baggage screening space as part of a 6,000-square-foot addition on the east side of the terminal.
Baggage security and check-in improvements, including relocated and upgraded baggage screening to streamline operations and improve efficiency, and a separate TSA room for staff and screening operations.
Three new passenger boarding bridges to accommodate jet aircraft and additional service.
Addition of 1,700-square-feet of space at the main entrance and an expanded ticket counter to improve passenger circulation and provide more room for ticket queuing.
Construction of a new 5,000-square-foot Federal Customs Facility.
Technology upgrades to include high-speed WiFi, Bluetooth connectivity and new, modern seating with charging ports and outlets.
Food service enhancements, such as expanding a pre-security café and adding 4,000 square feet of space for post-security food concessions.
Installation of a new, translucent, curved top canopy structure along the front entrance and over walkways to terminals, as well as a weather-resistant enclosure for passengers waiting for buses, taxis and shuttle.
Solar canopy covered parking system for the terminal parking lot.
Installation of new plumbing, HVAC, fire protection, mechanical and electrical systems.
Installation of a new geothermal water-source heat pump system to reduce natural gas usage for the terminal and Customs facility.