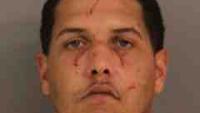 A man was charged following a domestic dispute in Auburn Friday night.
Nicholas M. Neville, 28, unlawfully entered the Pleasant Street home of a 23-year-old female at around 11 p.m. Sept. 7, Auburn Police Department Deputy Chief Roger Anthony said. Neville then proceeded to punch the victim repeatedly in the face, causing lacerations to her face.
Anthony said police arrived shortly after the incident occurred, but the victim was "too scared" to tell the officers how she got injured. She was taken to Auburn Community Hospital and treated for her facial injuries. The next day, Anthony said, the victim came to the police department and reported what had happened to her. Police then arrested Neville at around 4:20 p.m. at his residence at 100 N. Division St., Auburn.
Auburn Citizen:
Read More