Senior quarterback Eric Dungey completed 23-of-32 passes for 218 yards and a school record-tying five touchdowns, and Syracuse (2-0) defeated Wagner (1-1) by the score of 62-10 in the team's home opener on Saturday afternoon at the Carrier Dome.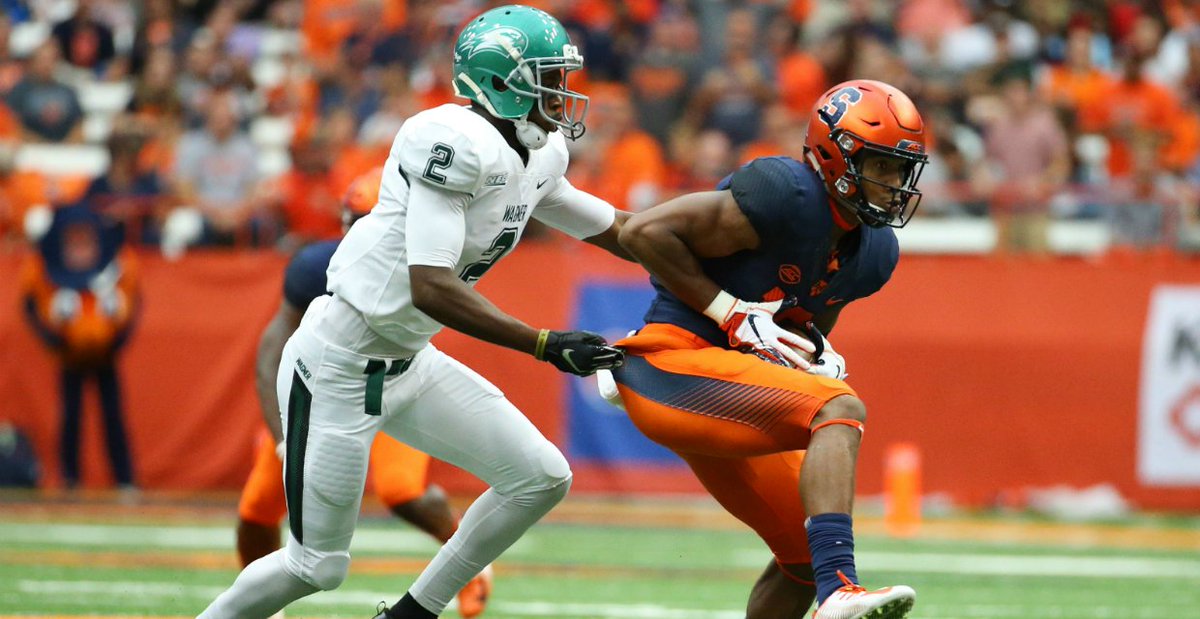 Dungey engineered scoring drives on seven of the Orange's first 10 possessions while helping Syracuse build an advantage that reached 45-7 by halftime. The Orange tacked on two touchdowns and a field goal in the second half, while limiting he visitors to a field goal.
HIGHLIGHTS:
COACH BABERS POST GAME:
MORE POST GAME COVERAGE:
– Three takeaways from Syracuse's 62-10 win over Wagner (NunesMagician.com)
– Dino Babers: Wagner caught Syracuse football during 'high tide' (Syracuse.com)
– Syracuse beats Wagner behind cohesive, all-around effort (NunesMagician.com)
– Syracuse football has worst-attended home opener in 35 years (Syracuse.com)
– Syracuse football sets record for points under Dino Babers in easy win over Wagner (Syracuse.com)
How 'bout that @CoachBabersCuse offense. First time in the modern era that Syracuse has opened with 2 50+ games. 1929 was the last time that happened. pic.twitter.com/qk2OZCgT3n

— Syracuse Football (@CuseFootball) September 8, 2018
Syracuse DB Andre Cisco, QB Eric Dungey and WR Nykeim Johnson recap win over Wagner, look ahead to week 3 matchup with Florida State: https://t.co/MwwQTkaooW pic.twitter.com/XFHQS3A1xI

— SyracuseOn247 (@SyracuseOn247) September 9, 2018
---
PREVIEW:
Syracuse (1-0) kicks off its 2018 home slate today, welcoming Wagner (1-0) to the Carrier Dome. The game kicks off at 3:30 p.m. and will be televised on ACC Network Extra.
"We're looking forward to getting back in front of the student body," head coach Dino Babers said, addressing the media at his weekly press conference Monday inside the Iocolano-Petty Football Complex. "They're on their second week of school, and they should be ready to watch a football game. We're getting back to the community. I think it's time to get back to Syracuse football and I think everybody is looking forward to the season. Read More at Cuse.com
ORANGE GAME WEEK LINKS:
FRIDAY:
– Gameday Timeline: Syracuse vs. Wagner (Cuse.com)
– Syracuse vs. Wagner football preview: Five things to watch (NunesMagician.com)
– What channel is Syracuse football-Wagner on? TV, time, live stream info (Syracuse.com)
– Syracuse wearing 'classic' orange/blue/orange vs. Wagner (NunesMagician.com)
– Antwan Cordy granted 2nd medical hardship (Daily Orange)
– SU's freshmen defensive backs experience ups and downs in 1st debut (Daily Orange)
– Sterling Lowry, a Wagner cornerback and Nottingham grad, returns to Syracuse (Daily Orange)
– Syracuse football has new game day stuff at the Dome this year (NunesMagician.com)
– Syracuse is still struggling to pressure the quarterback (Daily Orange)
– Dino Babers talks about what Eric Dungey can do with his legs and arms (NunesMagician.com)
– Syracuse football DBs Andre Cisco, Trill Williams reflect on college debuts (Syracuse.com)
THURSDAY:
– 'Cuse football Game Day focus on fans (Cuse.com)
– What's new at Carrier Dome heading into Syracuse football's home opener? (Syracuse.com)
– Syracuse football QB Eric Dungey on Tommy DeVito's chance: 'I wasn't taken aback by it' (Syracuse.com)
– Orange Extra: Dome Debut (Cuse.com)
– Beat writers unanimously pick Syracuse to top Wagner in a blowout (Daily Orange)
– SU film room: What are the differences between Dungey and DeVito? (NunesMagician.com)
– SU offensive line plays the most "unathletic" game of football you'll ever see (Daily Orange)
– What's college football saying about Syracuse after Week 1? (NunesMagician.com)
– Bowl watch, week 2: Get those Detroit tourism packets ready! (NunesMagician.com)
– Heisman trophy: Eric Dungey getting 80-to-1 odds to win (NunesMagician.com)
– Koda Martin's path to Syracuse football: Hokahey, heat-stroke, Dino Babers' basement (Syracuse.com)
WEDNESDAY:
– Syracuse vs. Wagner: TV/streaming, time, odds, history, & more (NunesMagician.com)
– Syracuse football depth chart vs. Wagner (Syracuse.com)
– Jamal Custis emerges as top threat via 'alien takeover' (Daily Orange)
– Babers talks baby food, mental mistakes at Monday press conference (Daily Orange)
– Eric Dungey named ACC quarterback of the week (NunesMagician.com)
– Breaking down Syracuse's offensive play-calling vs. WMU (NunesMagician.com)
– Dino Babers assesses Tommy DeVito's debut, Eric Dungey's shoulder (Syracuse.com)
– Bowl watch: Syracuse football hopes get early boost with win at Western Michigan (Syracuse.com)
Exciting fan experience additions are coming to the Dome this fall!

See you at the opener. https://t.co/j3PPEiXfmQ pic.twitter.com/HxSeqyS297

— Syracuse Athletics (@Cuse) September 5, 2018