Eric Devenford scored 19 points and Arinze Onuaku added 18 to lead Boeheim's Army to a 73-69 victory against Armored Athlete in The Basketball Tournament (TBT) on Saturday. The victory pushed Boeheim's Army into the Tournament's final eight on Sunday.
Boeheim's Army built a 66-55 advantage at the point the game format changed to the "Elam Ending." Seven points were added to the top score (66) making 73 the final target score for both clubs. Armored Athlete decided to foul Onuaku, but he responded with two free throws to increase the advantage to 68-55. Armored Athlete fought back with eight unanswered points, including two 3-pointers, to narrow the gap to 68-63.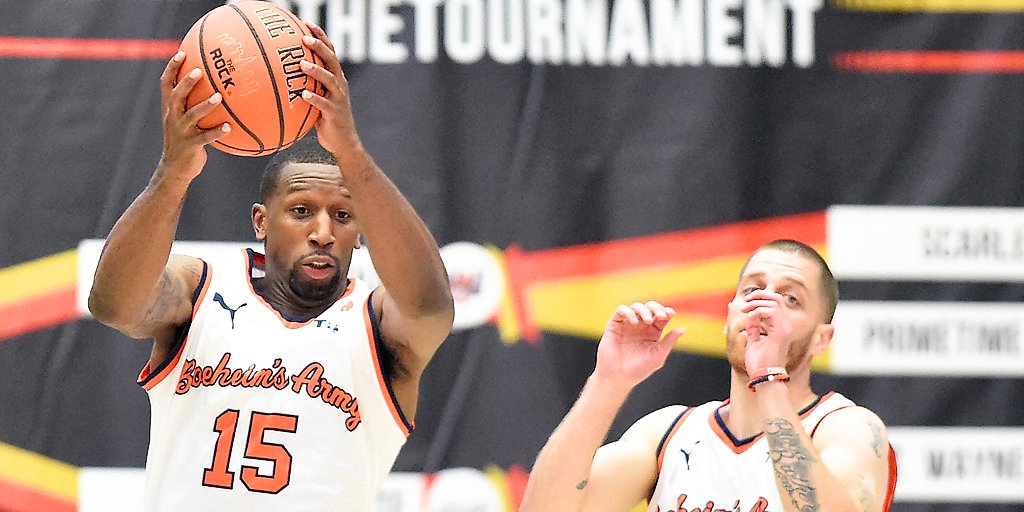 John Gilllon scored on a drive, but a 3-pointer from Armored Athlete closed the margin to 70-66 in favor of Boeheim's Army. Hakim Warrick tallied off a missed shot, putting Boeheim's Army one point away from victory.
Stefan Moody, who led Armored Athlete with 16 points, tallied his club's fourth consecutive 3-pointer to keep his squad alive.
With Boeheim's Army clinging to a 72-69 lead, Armored Athlete fouled Warrick, who made the first free throw to secure the victory…  Read More (Cuse.com)
🎶…we ain't gone' stop🎶 pic.twitter.com/47xIvTwBw0

— Boeheim's Army (@BoeheimsArmy) July 28, 2018
They play in the final eight on Sunday at 1 pm on ESPN.
MORE COVERAGE:
– Boeheim's Army reaches elite eight of TBT, still alive for $2 million (Syracuse.com)
– Eric Devendorf's shooting powers Boeheim's Army 73-69 over Armored Athlete (NunesMagician.com)
– Arinze Onuaku shines for Boeheim's Army until Armored Athlete's fouling at end (Syracuse.com)
– Eric Devendorf had to control emotions after taking elbow to his forehead (Syracuse.com)
– What channel is Boeheim's Army vs. Golden Eagle Alumni on? TV, live stream, tip time (Syracuse.com)