Super Bowl Sunday is going to be a little snowy.
Local forecasters and the National Weather Service agree that as two systems work together around the Finger Lakes to bring snow. However, it won't be a situation where the region will be buried in fresh snow.
FLX Weather Meteorologist Drew Montreuil explains:
The set up for Sunday is rather complex as one system swings through the Great Lakes and another develops along the coast. The snow may fall at a moderate rate at times, yet accumulations will be kept in check by a number of factors.
Those east of the Finger Lakes will likely see bigger accumulations — but those staying put in the region on Sunday should only see 1 to 3 inches throughout most of the area.
---
FingerLakes1.com Weather Center   |   FLX Weather – Latest Report
---
Local Weather Resources
---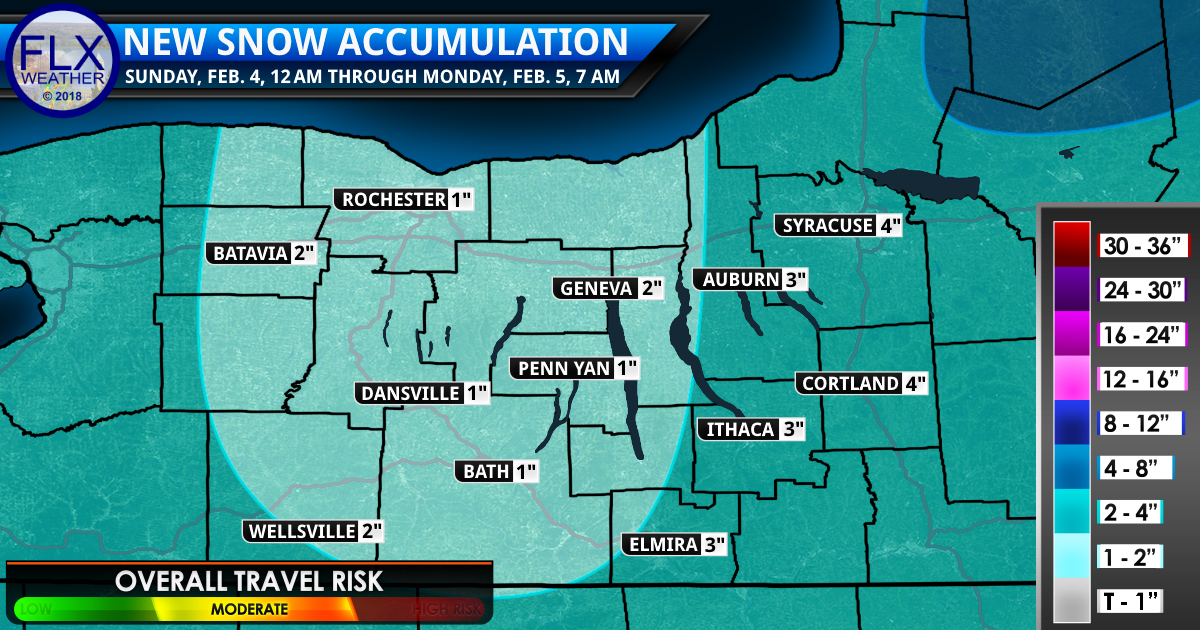 ---
From Social Media
---
[4:51am SUN] Sunday-Sunday night snow forecast. Heaviest totals east of Lake Ontario. Check your local forecast at https://t.co/SzwAvEBzta pic.twitter.com/2Ot6FTjBY5

— NWS Buffalo (@NWSBUFFALO) February 4, 2018
It may even briefly become mild enough on Sunday for some light rain showers to mix with wet snow. Minimal accumulation near #ROC. A coating to 1" of snow for most areas with up to 2" west toward #BUF. It will be windy with some gusts oer 30mph. pic.twitter.com/SrjFtL0AlD

— Mark McLean (@Wxandgardenguy) February 4, 2018
Updated Snowfall Map for Sunday and Sunday Night's expected snowfall. Expanded Winter Weather Advisory too. See graphics. #nywx #pawx #winter pic.twitter.com/W8TxKG06wr

— NWS Binghamton (@NWSBinghamton) February 4, 2018
Light snow will begin moving into the region Sunday afternoon. A coating to 2" will be possible by early Monday morning. #ROC #NYwx pic.twitter.com/SG3w8Rh1sb

— Mark McLean (@Wxandgardenguy) February 3, 2018