It won't be the heavy snow event that the region featured last weekend, but it will be measurable snowfall on Tuesday.
FLX Weather Meteorologist Drew Montreuil provided an update on Tuesday morning, which included total snowfall accumulation, as well as what to expect throughout the day. "For us here in the Finger Lakes, the snow is light this morning and will continue to be so into the early afternoon. However, as one of those waves passes to our southeast, a period of steadier, moderate snow will be likely," he explained.
Montreuil says the heaviest snow will fall between 4 pm and midnight tonight. Accumulations of a couple inches will be possible, especially for areas further south and east. Snow will transition back to on and off snow showers through the night and Wednesday.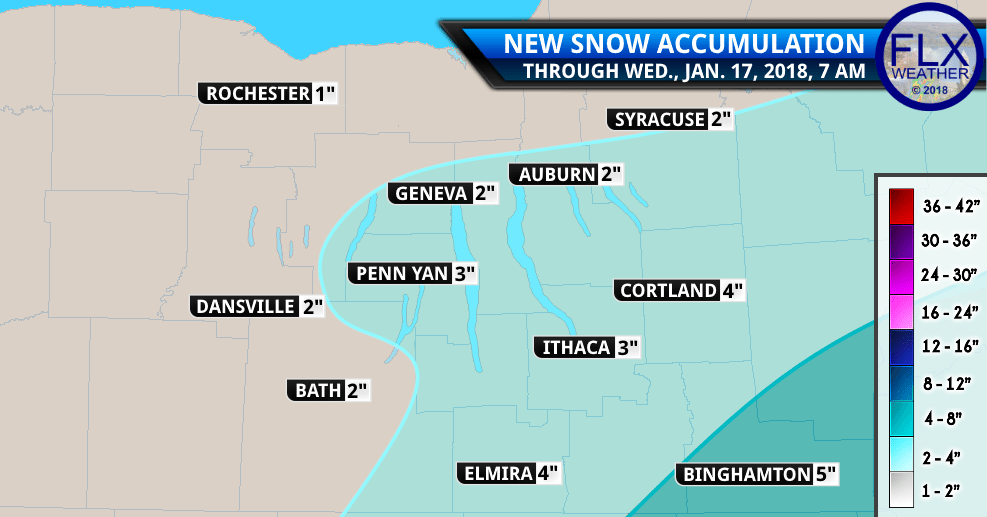 Those traveling to the western parts of the region should drive right out of the snowfall, as parts of Western Ontario County are not expected to get much in the way of accumulation.
Temperatures will be rebounding through as we approach the weekend. According to the National Weather Service, high temperatures will push toward 50 degrees by Saturday, if current models and trends hold true. – Read more from FLXWeather.com
FINGERLAKES1.COM WEATHER CENTER   |   LOCAL WEATHER CANCELLATIONS
---
LOCAL RADAR
---

---
EXTENDED FORECAST
---
Wednesday
Mostly sunny, with a high near 23. West wind around 10 mph.
Thursday
Mostly sunny, with a high near 28. Southwest wind 9 to 14 mph.
Friday
Partly sunny, with a high near 34.
Saturday
Partly sunny, with a high near 42.
Sunday
A chance of showers. Mostly cloudy, with a high near 46. Chance of precipitation is 30%.
Monday
Showers likely. Cloudy, with a high near 49. Chance of precipitation is 60%.