Tyus Battle's career high 37-point effort wasn't enough in a 101-90 double overtime loss to Florida State on Saturday. It was the Orange's fourth straight loss.
The Orange overcame a 10-point halftime deficit to force overtime.
Freshman Oshae Brissett finished with 14 points and eight rebounds, junior Frank Howard totaled 13 points with five assists and junior Paschal Chukwu recorded a double-double with 10 points and 11 rebounds. – Read more from DailyOrange.com
BOX SCORE: Florida State 101, Syracuse 90
GRADE 'EM: Cuse loses another, skid expands to four games
HIGHLIGHTS
POST GAME PRESSER
BATTLE FORCES OVERTIME WITH DRAMATIC SHOT
MORE COVERAGE
– Battle Sets Career-High in Double-OT Loss to FSU (Cuse.com)
– Fan reactions to Syracuse's 101-90 double overtime loss to No. 23 Florida State (Daily Orange)
– Syracuse basketball box score at Florida State (Syracuse.com)
– Syracuse basketball loses in double OT at Florida State (Syracuse.com)
– You Grade the Orange: Rate Syracuse basketball performance at Florida State (Syracuse.com)
---
Syracuse is coming off three straight losses as they head south to face Florida State on Saturday at 2:00 pm. FSU may be in a bit of a tailspin at the moment, but they're still playing very well and do seem like a top-25 caliber team this season. It's also not an easy place to win, especially evidenced by the streak that just ended there. A 2-3 record in league play is far from insurmountable on our end.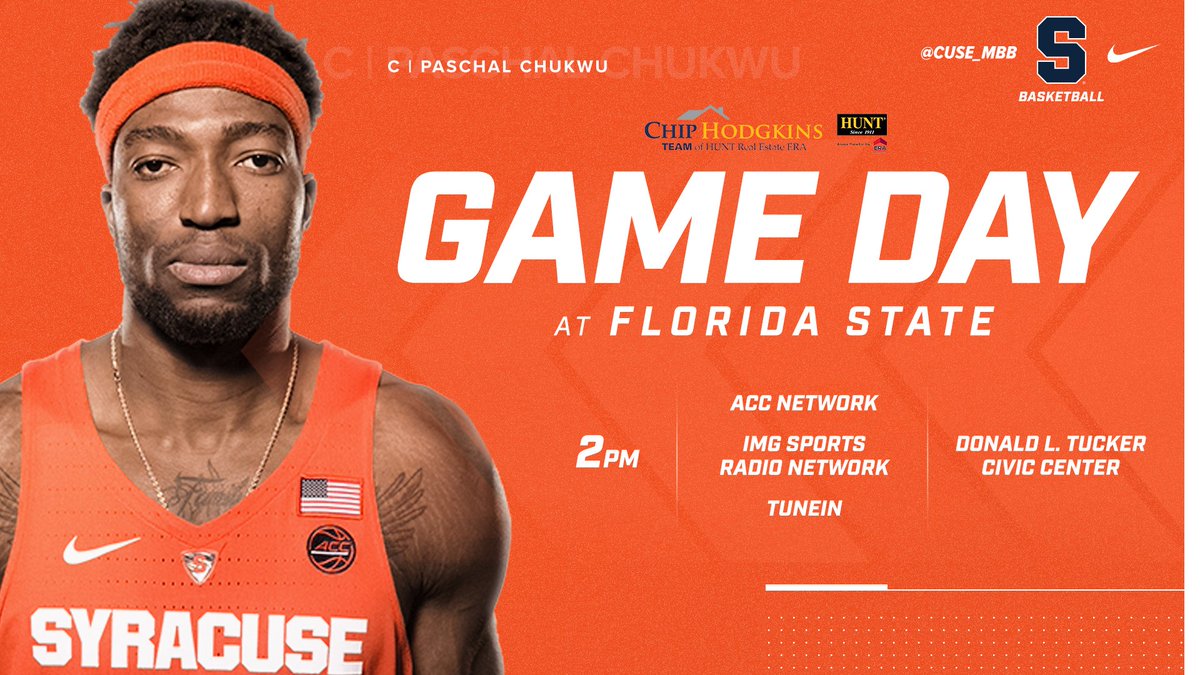 PREGAME ORANGE HOOPS COVERAGE:
– What channel is Syracuse vs. Florida State on? TV, live stream, tip time (Syracuse.com)
– What you need to know ahead of the matchup with No. 23 Florida State (Daily Orange)
– Syracuse vs. Florida State: TV/streaming, time, odds, history & more (NunesMagician.com)
– Syracuse opens as a 6-point underdog against Florida State (Syracuse.com)
– Syracuse vs. Florida State preview: Five things to watch (NunesMagician.com)
– Syracuse basketball vs. Florida State: 10 things to watch for (Syracuse.com)
– Beat writers predict the outcome of Syracuse's latest road test at Florida State (Daily Orange)
– Florida State's Terance Mann draws comparisons to Michael Carter-Williams (Daily Orange)
– Syracuse vs. FSU Q&A with Tomahawk Nation (NunesMagician.com)
– A history of 12-5 (or worse) starts for Syracuse basketball (NunesMagician.com)
– Miami Heat guard Dion Waiters to have season-ending ankle surgery (Syracuse.com)
– Florida State, Syracuse basketball's next foe, has 28-game home win streak snapped (Syracuse.com)
– Syracuse basketball's January swoon IS a thing, and most of the time, it's fine (NunesMagician.com)
– Troy Nunes Is An Absolute Podcast: Syracuse vs. Florida State preview (NunesMagician.com)
– Syracuse basketball defense struggling late in games (stats, lineups) (Syracuse.com)
– Ex-Syracuse basketball commit Moustapha Diagne declared eligible at Western Kentucky (Syracuse.com)
Programming note for #Syracuse – Fla State 🏀 today in #ROC area

2 PM TIP pic.twitter.com/KuFzUBAT2G

— Jeff DiVeronica (@RocDevo) January 13, 2018