It's going to feel like mid-winter on Wednesday. The general snowfall has moved out of the area as of Tuesday, but that system left lake effect snows lingering in its wake. FLX Weather Meteorologist Drew Montreuil updated his forecast on the weather, and what could be expected on Wednesday.
"Areas of lake effect snow are ongoing Wednesday morning, especially over the northern and eastern Finger Lakes.

Much of this lake effect snow is not showing up well on the radar. Several more inches of snow is likely, especially along the shore of Lake Ontario, down towards Syracuse and Cortland. Elsewhere, most areas will see an inch or less of accumulation through this afternoon.

Regardless of new snow accumulations, strong winds are blowing around what has already fallen. Even areas that are not seeing lake effect still have poor travel conditions and reduced visibilities and winds gust over 35 mph.

With temperatures in the low and mid teens, wind chills are near or below zero. The weather will change little during the course of the day. Winds will remain strong and temperatures will remain cold with highs in the upper teens.

Lake snows will gradually retreat to the northern Finger Lakes and weaken."
Winter Storm Warning's remain active for Monroe, Wayne, and Northern Cayuga counties in the Finger Lakes. Seneca, Cayuga, and Cortland counties were added to the warning. The warning is active until at least 6 pm on Wednesday.
– Read more about the Winter Storm Warning here (Monroe, Wayne, No. Cayuga)
– Read more about the Winter Storm warning here (Cayuga, Seneca, Cortland)
Winter Weather Advisories remain active for Ontario, Yates, Tompkins, Schuyler, Steuben and Livingston counties. Both run for the watched time, which is effective Monday night through 1 pm on Wednesday.
– Read more about the Winter Weather Advisory here
On Wednesday, wind chills will drop into the single-digits – as high-temperatures only get into the upper-teens.
We'll continue to update this with the latest forecast information from the National Weather Service and Finger Lakes Weather, as new data becomes available. Check out the weather resources below, including the visual provided by forecasters on social.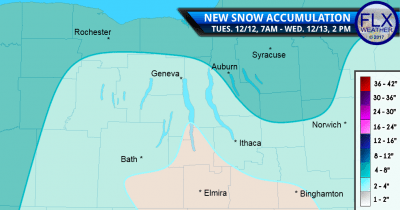 Local Weather Resources:
– FingerLakes1.com Weather Center
– Local Weather Cancellations
– Thruway Advisories & Conditions
– National Weather Service (Buffalo)
– National Weather Service (Binghamton)
– NYSEG Power Outages (FLX)
– RG&E Power Outages (WNY)
– National Grid Power Outages (CNY)
– Finger Lakes Weather (FLXWeather.com)
– Lake Ontario Levels
– Live Local Weather Cams
Active Warnings / Advisories / Watches by County:
– Northern Cayuga
– Southern Cayuga
– Ontario
– Schuyler
– Seneca
– Steuben
– Tompkins
– Wayne
– Yates
More from Social
Widespread 2 – 4 inches has fallen across the Eastern Great Lakes overnight. Light to occasionally moderate #snow will continue this morning. Plan on difficult travel conditions for the morning commute. #Lakeeffectsnow will begin this afternoon. pic.twitter.com/HkVXvxsvUr

— NWS Buffalo (@NWSBUFFALO) December 12, 2017
Light to moderate snow continues this morning. Snow squalls possible late morning and afternoon. Lake effect late today into Wednesday. Advisories and Warnings continue. #nywx #pawx pic.twitter.com/355ZF7FmT8

— NWS Binghamton (@NWSBinghamton) December 12, 2017