The Gananda Blue Panthers boys varsity basketball team opened their season and represented the Wayne County League with some hot shooting in their home gym against Geneva on Tuesday night. The larger Class A2 Geneva Panthers (Finger Lakes East) dropped their opener to Class C1 Gananda by a score of 61-49. The Blue Panthers shot 13-28 from three-point range and led by 8 points at the halftime break. Geneva power forward Reid Patchett finished with 19 points and 10 rebounds. This was the only Wayne-Finger Lakes contest on the slate Tuesday night.
Gananda faces another Finger Lakes East opponent next when they travel to Clifton Springs to face Midlakes on Friday Night. Geneva is also in action on Friday night in the first round of the Waterloo Hall of Fame Classic. They'll face a second Class C Wayne County school in Lyons. FingerLakes1.com will be live streaming the second day of games in Waterloo on Saturday beginning at 2:30 pm.
Lyons is currently ranked #5 in the FL1 Sports W-FL Power Rankings released on Sunday. Geneva is ranked #8. Gananda was unranked in the opening poll of the season.
WEDNESDAY NIGHT'S W-FL BOYS SCHEDULE:
HORNELL @ PAL-MAC
PENN YAN @ WAY-COHOCTON
NEWARK @ CANANDAIGUA
WAYNE @ PITTSFORD-SUTH
ROMULUS @ HAMMONDSPORT
IN GIRLS ACTION TUESDAY NIGHT…
Red Creek hosted Phoenix out of Section 3 and came away with a 51-43 victory. Isabella Wilbur led the Lady Red Rams with 16 points and Alex Mosqueda scored 12. Red Creek head coach Mike Krauza will join South Seneca's Heather Mott and Mynderse Academy's Jerry Anderson live inside the FingerLakes1.com Studio on Sunday at noon for the 2017-18 Girls Basketball Preview Edition of the Upstate Hoops Podcast.
The Romulus girls season got off on the right foot as they hosted Finger Lakes West foe Harley-Allendale-Columbia and dispatched with the Wolves 56-39. Jalen Nowden led HAC with 17 points in the loss.
Rochester Academy Charter School defeated Clyde-Savannah by a score of 50-44 in Clyde. Eliana Mitchell led the Golden Eagles with 13 points while Caitlin Bloomer scored 11. Eliana's sister Essence scored 10.
The Pal-Mac Red Raiders are 1-0 after opening their season with a 46-41 victory at home against Wayland-Cohocton.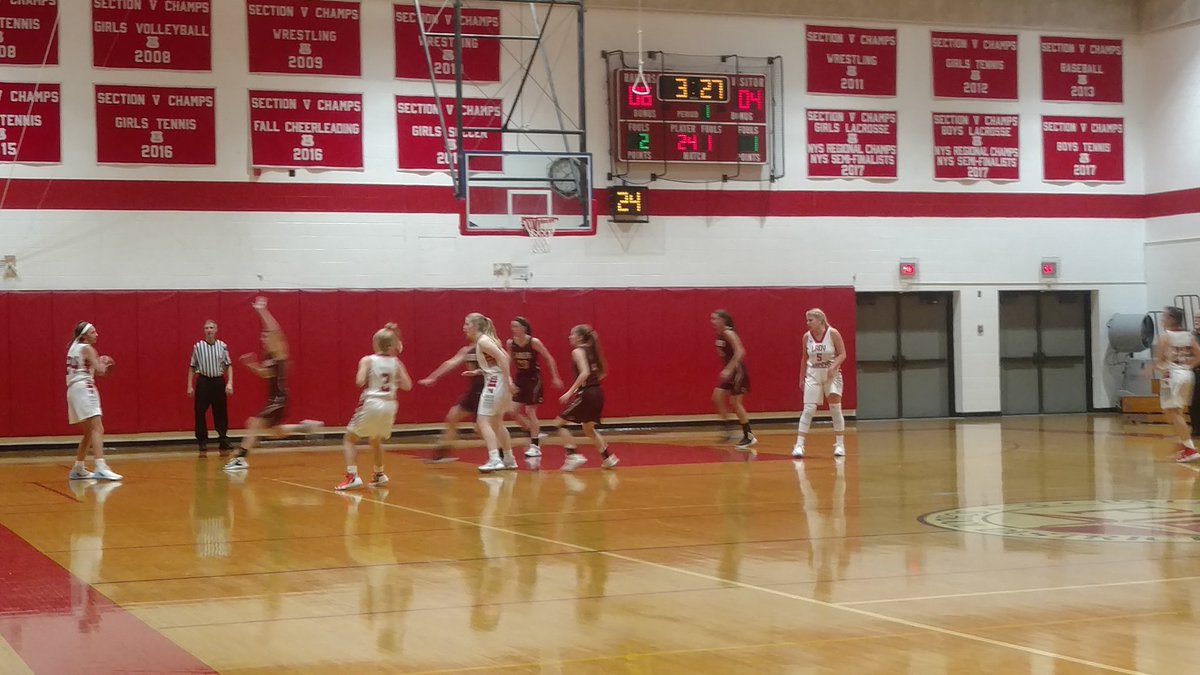 The Bloomfield Lady Bombers won at Honeoye, 55-23.
There was no report from the North Rose-Wolcott vs. Hannibal game at the time this article was published.
WEDNESDAY NIGHT'S W-FL GIRLS SCHEDULE:
SOUTH SENECA @ DUNDEE
AQUINAS @ MYNDERSE
AVON @ WATERLOO
GANANDA @ MIDLAKES
TUESDAY NIGHT TWEETS:
Basketball season has arrived in Whitesville.
The Lady Jays welcoming in Prattsburgh for their home opener tonight in the house that Dan Denner built. #SectionV pic.twitter.com/oENDWEBxNw

— Chris Brooks (@iAmBrooksie) November 29, 2017
Leading in the forth pic.twitter.com/DITQKKRKGA

— Pal-Mac Athletics (@palmacsports) November 29, 2017
Varsity Girls get a 55-23 win over Honeoye. @MPN_bchavez @goBCSbombers @Bloomfield_MSHS @bloomfieldcsd

— BCenterCourtClub (@BloomfieldCCC) November 29, 2017
Pal-Mac wins it's home openers…Way-Co plays hard to the end and almost snatches victory

— Pal-Mac Athletics (@palmacsports) November 29, 2017
Girls basketball drops their 1st game 54-39 to a tough Romulus team. Jalen Nowden (17 pts), Amelia Gugino (11), and Addy Flood (8 pts). Wolves host Marion next @ACSRochester this Thursday.

— HACAthletics (@HACAthletics) November 29, 2017
Hopefully people fill our new additions to our gym. pic.twitter.com/qd8bRnqn7I

— Pal-Mac Athletics (@palmacsports) November 29, 2017