A former-Seneca Falls resident was denied her appeal several years after her 2009 conviction in a gang assault trial.
Stephanie A. Meacham, 33, formerly of Seneca Falls had her appeal denied by New York State's highest court, according to Seneca County District Attorney Barry Porsch.
Meacham was represented on the appeal by well-known Syracuse-based lawyer and appellate expert John Cirando. Following the appeals victory — Porsch touted his conviction record in the Court of Appeals.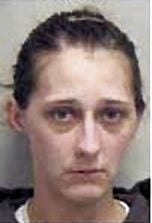 In 2009, Meacham along with co-defendants Marvin Snyder and William Meacham were convicted after a jury trial for first-degree gang assault. They were accused of attacking an individual in September 2008 at the Hunter's Run apartment complex on Peterman Rd. in Seneca Falls.
The victim was brutally attacked after he posted William Meacham's registered sex offender photograph at the apartment complex.
Porsch says that due to the brutal attack the victim suffered brain damage, and was unable to testify at the trial.
Seneca County Judge Dennis Bender sentenced Meacham to state prison for 13 years, but the sentence was later modified downward to 10 years. In May 2010, Meacham pleaded guilty to second-degree attempted assault for her attempted attack on a second person at the apartment complex and received a concurrent sentence of 2- to 4- years.
Meacham has now exhausted all appeals options and will be eligible for parole in 2018.
The other two convictions within the gang assault trial, that of Snyder and William Meacham have since been upheld by the courts. Both will be eligible for parole in 2020 and 2021.