Emergency crews from northern Seneca County were called to mile marker 3157 on the New York State Thruway after a mid-morning accident involving at least two tractor-trailers slowed, and challenged traffic between Waterloo and Weedsport.
Scanner traffic indicates that as many as three tractor-trailers were involved, but only one person was reported trapped.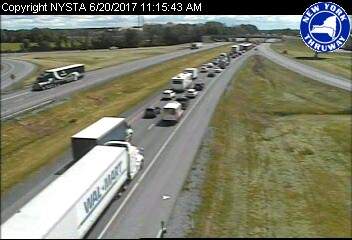 Junius and Magee Fire Departments, as well as North Seneca Ambulance all responded to the scene. Additional manpower was requested at the scene shortly after initial crews arrived.
Two of the vehicles were said to be garbage trucks, according to scanner traffic.
Traffic on the Thruway has picked back up to speed, according to the latest from the Thruway Authority.

Additional details were not available, but this story will continue to be updated as more information becomes available.
Magee Fire and North Seneca Ambo responding to the Thruway for possibly two tractor trailers that have crashed, possibly one on its side

— SenecaCountyFireWire (@scfw_50) June 20, 2017