The Lucas Oil Empire Super Sprints (ESS) joined the regular Super 6 Show on Scorpion Security Products Night at Outlaw Speedway Friday night. Track conditions continued to improve and provided great racing on the 4/10 mile clay oval.
The 25-lap Lucas Oil ESS A-Main started with Jeff Cook and Paul Colagiovanni battling for the early lead as Alain Bergeron slotted into third spot. The leaders caught traffic by lap 5 which allowed Colagiovanni to close, but a spin by Derrick Juliano brought out the yellow one lap later. On the restart, Coleman Gulick charged up to battle Bergeron for third as the leaders again pulled away. A lap 11 yellow again bunched the field and Gulick snagged second on the restart as Johnathan Preston cracked the top five. Colagiovanni retook second on a lap 13 restart and three laps later was battling Cook for the lead. Cook's nose wing collapsed, and he and Colagiovanni tangled in turn one on lap 18, collecting Alex Vigneault. Gulick inherited the lead and pulled away from Bergeron to take the win, with Bergeron, Jason Barney, Preston, and Paul Kinney rounding out the top five.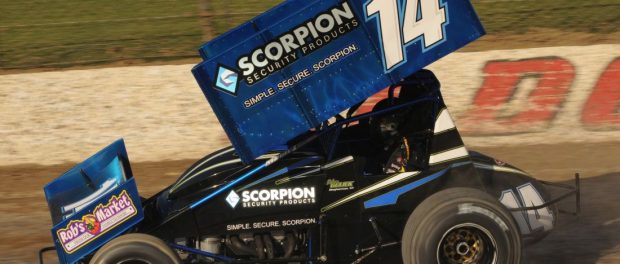 Lucas Oil ESS heat races were won by Coleman Gulick, Jason Barney, and Johnathan Preston. The Dash was won by Shawn Donath.
It was Dillon Groover outrunning Cory Costa for the lead at the start of the 30-lap Friendly Dodge BB/SB Modified feature event. Kyle Coffey snagged the lead on lap 3 as Matt Sheppard and Steve Paine quickly found their way into contention. Sheppard and Coffey battled for the lead until Sheppard slipped into the top spot on lap 9 with Paine close behind. Lee Bills spun on lap 14 and Groover and Derrick Podsiadlo were collected in the incident. Paine and Alan Johnson were able to get by Coffey on the restart, and Johnson got by Paine on lap 18 as they tried to keep Sheppard in sight. Sheppard was able to keep a distance over Johnson in traffic in the final laps to grab his second win of the season. Following Johnson and Paine across the line were Costa and Coffey.
Friendly Dodge BB/SB Modified heats were won by Don Lawson, Kyle Coffey, and Steve Paine.
The 25-lap Crate Sportsman main event started with a multi car tangle in the first turn on the opening lap that took out point leader Dale Welty and also involved Loren Lincoln, Brian Fish, and Eric Williams. When racing resumed, Frank Guererri Jr and Todd Hayward battled for the lead, with Hayward getting the top spot on lap 3. Brent Ayers moved past Brett Buono on lap 7 to slot into the third spot as Rob Bussey charged from the back of the field and into the top five. Buono returned the favor on lap 15 as Hayward held the lead by 3 car lengths. Guererri closed in on
Hayward in the final laps, but could not find a way by as Hayward took his first win of the season over Guererri with Buonco, Bussey, and Chris Fisher completing the top five.
Crate Sportsman heats were won by Frank Guererri Jr, Chris Silvers, and Todd Hayward.
JJ Mazur grabbed the lead at the start of the 20-lap Gross Construction Crate Late Model feature as Brian Knowles came from his 6th starting spot to battle Brad Smith for second place. On lap 9, Knowles' car appeared to jump out of gear and he fell out of the top five as Smith's car broke and he headed to the pits. Mazur pulled away as Jimmy Johnson settled into second, and at the finish, Mazur had his first win of the season, followed by Johnson, Steve LaBarron, Knowles, and David Pangrazio.
The Gross Construction Crate Late Model heat was won by Steve LaBarron.
Brad Smith and Scott Sebring brought the IMCA Modified field to the green for their 20 lap feature and Sebring grabbed the lead as Jake Karlnoski moved into second spot. Smith spun a lap later and on the restart Sebring maintained the lead as Glenn Whritenour and Shawn Bruce battled for third. Trouble struck on lap 6 when Sebring bobbled and Whritenour, Karlnoski, and Phil Yaw all tangled in turn one. Shawn Bruce inherited second spot and fought Sebring for the lead until Sebring slid high in turn 4 on lap 10, giving Bruce the top spot. Bruce pulled away from Rich Karlnoski at the finish to take his second IMCA Modified feature of the season, with Karlnoski followed by Sebring, Brandon Smith, and Todd Stone at the finish.
The IMCA Modified heat was won by Glenn Whritenour.
The 20-lap Street Stock feature started with a battle between Jared Hill and James Kreidler III for the lead, with Hill settling into the top spot on lap 2. A wild battle ensued behind them, with Lavern Knickerbocker moving into second as the yellow flew on lap 6. Knickerbocker took the lead on the restart and Glenn Whritenour moved into second a lap later, taking the lead on lap 9. After a lap 11 restart, Whritenour pulled out to a small lead while Knickerbocker and Quinn Sutherland battled for the second spot. Gene Balmer moved into fourth and closed in on the battle for third in the closing laps. Sutherland moved into second on lap 15 and chased after Whritenour, but could not catch him. For Whritenour, it was his first win of the season over Sutherland, Balmer, Knickerbocker, and Dan Mazzarese.
Street Stock heats were won by Lavern Knickerbocker and Gene Balmer.
Brad Rathburn Jr. took the lead at the start of the 20-lap 4 Cylinder feature event with a wild battled for positions behind him. Ray Hyer came through the pack quickly from his 8th starting spot to take the lead at lap 3 as Billy Bowers battled Chad Ayers and took the third spot on lap 7, then moved past Rathburn for second on lap 10. Dante Mancuso also moved up and had contact with Harold Fenton Jr. on lap 13 that hung Fenton on the outside wall and brought out the first caution of the feature. Mancuso grabbed second on the restart as Bowers battled with Adam Delgrosso for third. Hyer pulled away for his second win of the season, with Bowers snagging second from Mancuso on the final lap. Mike Stone and Delgross completed the top five.
4 Cylinder Heats were won by Ray Hyer, Mike Stone, and Adam Delgrosso.
Cole Youse won the Winner's Circle Deli Bandit feature event.
Racing at Outlaw Speedway continues next Friday night with a Super 6 Show and the addition of 1 on 1 Spectator Races. Race time is 7:00 p.m. For more information, visit www.outlawspeedwayllc.com
RACE SUMMARY:
SCORPION SECURITY PRODUCTS NIGHT at OUTLAW SPEEDWAY on MAY 19, 2017
LUCAS OIL EMPIRE SUPER SPRINTS-COLEMAN GULICK, Alain Bergeron, Jason Barney, Johnathan Preston, Paul Kinney, Dylan Swernik, Shawn Donath, Matt Billings, Brandon Kidd, Mike Koehler, Chad Miller, Matt Tanner, Dave Axton, Jeff Cook, Kelley Hebing, Robbie Shuttleworth, Derek Juliano, Paul Colagiovanni, Alex Vigneault, Ethan Preston, Brett Wright.
FRIENDLY DODGE BB/SB MODIFIEDS-MATT SHEPPARD, Alan Johnson, Steve Paine, Cory Costa, Kyle Coffey, Jim LaRock, Joe Digien, Don Lawson, Marcus Dinkins, Justin Wright, Brady Fultz, Eric Fisher, Tyler Siri, Lee Bills, Dillon Groover, Derrick Podsiadlo, Eldon Payne Jr.
CRATE SPORTSMAN-TODD HAYWARD, Frank Guererri Jr, Brett Buono, Rob Bussey, Chris Fisher, Brent Ayers, Fran Hilton, AJ Lloyd, Brian Fish, Tommy Collins, Eric Williams, Zach Zigenhagen, Karl Comfort, Hillary Ward, Chris Silvers, Mike Buchanan, Clay Wheat-French, Loren Lincoln, Dale Welty.
GROSS CONSTRUCTION CRATE LATE MODELS-JJ MAZUR, Jimmy Johnson, Steve LaBarron, Brian Knowles, David Pangrazio, Billy DuBois, Brad Smith.
FARMERS INSURANCE/MARION DECKER AGENCY IMCA MODIFIEDS-SHAWN BRUCE, Rich Karlnoski, Scott Sebring, Brandon Smith, Todd Stone, Phil Yaw, Jake Karlnoski, Glenn Whritenour, Brad Smith.
STREET STOCKS-GLENN WHRITENOUR, Quinn Sutherland, Gene Balmer, Lavern Knickerbocker, Dan Mazzarese, Jared Hill, Nate Daggett, Carl Cleveland, Jeremy Trank, Dave Matwiejow, Jayson Smart, James Kreidler III, Allison Teed, Brian DeStephen, Jayson Clugstone, Dave Decker (HS), Allison Pierce (HS).
4 CYLINDERS-RAY HYER, Billy Bowers, Dante Mancuso, Mike Stone, Alex Delgrosso, Erica Bell, Chris Percy, Chad Ayers, AJ Potrzebowski, Dan Smart, Artie Teed, John Burritt, Timmy Borden Jr, Desi Force, Steven Perkins Sr, Brad Rathburn Jr, Harold Fenton Jr, Cody Baker, ShiAnn LaBar (DNS).
WINNERS CIRCLE DELI BANDITS-COLE YOUSE.