Late afternoon and evening thunderstorms are coming for the Finger Lakes.
The National Weather Service in Binghamton has issued a Severe Thunderstorm Watch for the entire region until 11 pm.
Among the concerns in thunderstorms this afternoon are hail, potentially damaging winds, and frequent lightning.
FLX Weather Meteorologist Drew Montreuil says it will be a situation worth watching throughout the afternoon.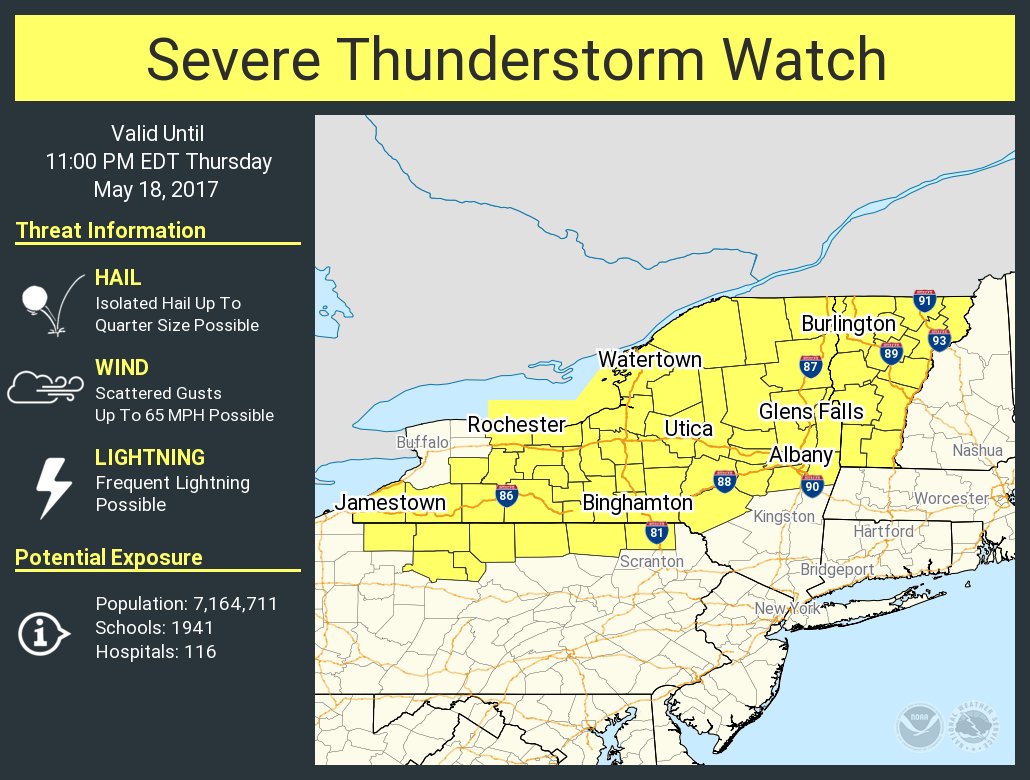 As for the thunderstorms, here is what Montreuil says to expect:
With the heat and a favorable atmosphere, it will not take too much of a trigger to fire up some thunderstorms today.

Two such triggers will exist, which may result in two rounds of storms for the area. However, both rounds look fairly limited in their coverage area, so a widespread severe weather event like May 1st is unlikely.

The first round of storms will fire up in the 4-6 pm timeframe over the western Finger Lakes region and quickly move off to the east. by 7 or 8 pm tonight, these storms will be out of the Finger Lakes.

Large hail in excess of 1 inch in diameter and strong winds will be a threat with these storms. While the threat is low, a brief tornado cannot be ruled out.

The second batch of storms will drop southeast across Lake Ontario later this evening, mostly after 9 pm. These storms will weaken once they move inland, so the best chance for strong storms will be in the northwestern portions of the Finger Lakes.

Gusty winds and some small hail will be the primary threat with these second storms.

Overall, I think the severe weather threat is greater with the first batch of storms late this afternoon.
LATEST REGIONAL RADAR: