Gov. Andrew Cuomo is coming to Sodus Point on Thursday.
After more than 17 inches of water rise on Lake Ontario, a number of counties had a State of Emergency declared, clearing the way for state and federal response.
The Governor formed a rapid response team to address any flooding issues that may come up in the next several weeks as this problem continues to grow.
Property could be damaged or even destroyed if water continues to rise.
This week, more rain is expected, which would only make the situation worse.
When Gov. Cuomo appeared in Rochester on Tuesday, he said that every resource available would be set forward in these communities to help combat the flooding.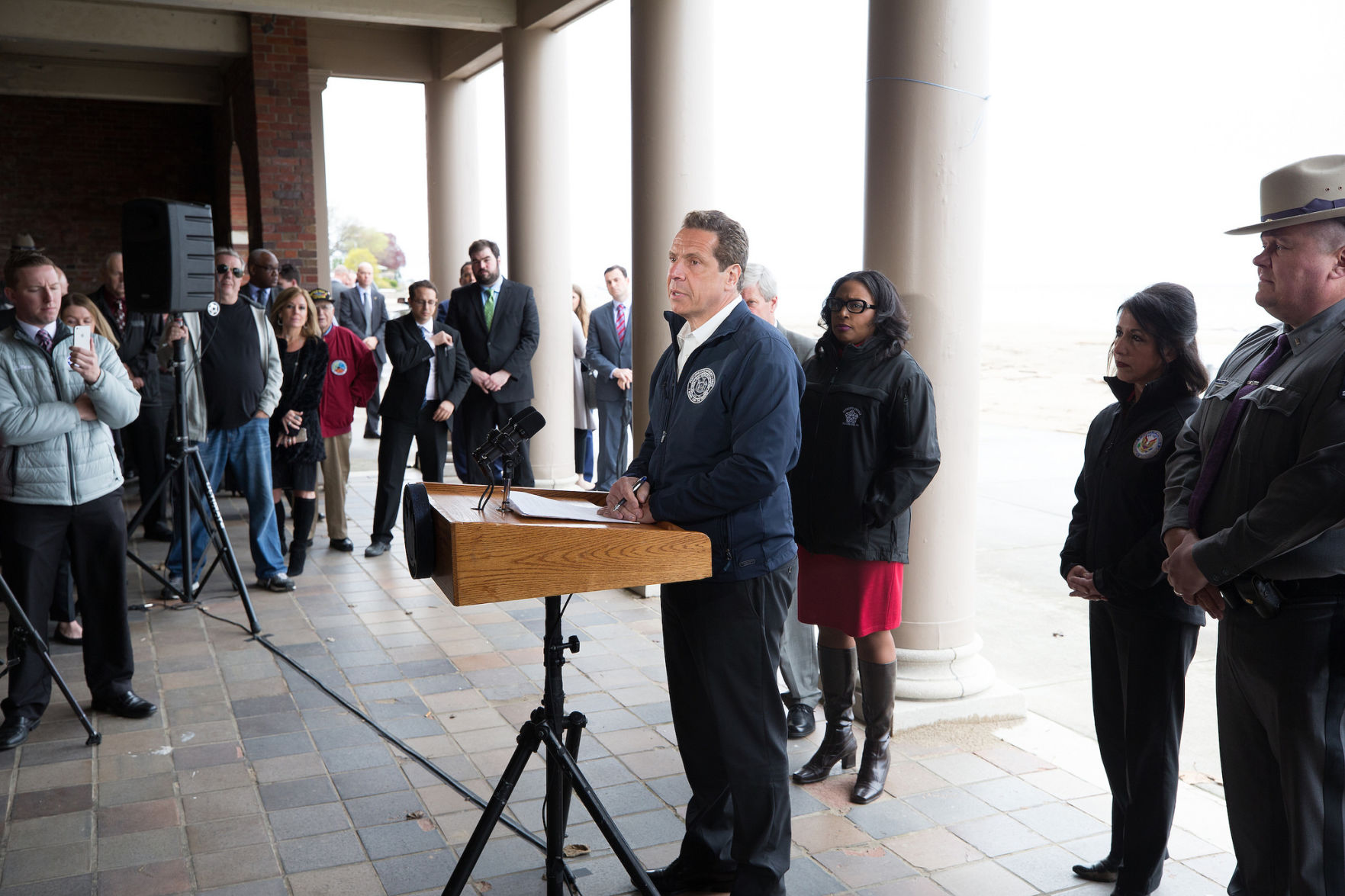 He also said that he was appealing a decision by the IJC to not increase outflows from Lake Ontario.
Later in the day, the IJC said that they would be increasing those outflows. It's unclear if Gov. Cuomo issuing a state of emergency along the lakeshore had anything to do with it — but the move does create better funding and resource options in the region.
It will mean access to more state and federal dollars. It will also mean that the National Guard will be deployed as necessary throughout this crisis.
Interestingly though, it's one that could last into the summer.
In a statement, the IJC said the following after turning up outflow on Tuesday:
"The water level of Lake Ontario is now at (or above) the International Joint Commission's upper trigger level that applies at this time of year. Therefore, the Board is now operating under what the IJC defines as criterion H14, which directs the Board to set releases to provide all possible relief to riparians living along the shorelines of the entire Lake Ontario – St. Lawrence River system, balancing water levels upstream and downstream to minimize flood and erosion impacts to the extent possible."
Does that mean the problems along the lake will be solved?
Absolutely not. In fact, things could still get dramatically worse before they improve.
The rains expected this week could put a serious burden on homeowners and those impacted communities. Even the Governor alluded to it during his remarks in Rochester.
"I'd like to say this will never happen again … I don't believe that to be the case," he said. "I'd rather build a wall than fix the damage."
John Reynolds, a resident in Sodus Point, told 13WHAM News that the challenges haven't hurt the community. In his words, everyone is stepping up to the plate.
"It is just an example of a cohesive neighborhood that is going to stay that way, with or without high water," Reynolds said.
Along the lake shore in Kendall, sandbags and rocks not doing much to stop the waves as the soil underneath erodes away. pic.twitter.com/QF09okyerM

— Brianna DiPilato (@whec_bdipilato) May 3, 2017
Assemblyman Bob Oaks (R-Macedon) added the following:
"I am grateful that Governor Cuomo today announced a state of emergency for the Lake Ontario region of New York State, including northern Wayne, Cayuga and Oswego counties.

 

For the past two weeks, I have joined with many area state legislators to alert the governor to the rising level of Lake Ontario that has resulted in flooding across our area that is threatening to worsen because of the continued inclement weather. that is expected in coming days."
Sen. Pam Helming (R-Canandaigua) shared Oaks' sentiments:
"Our calls were answered earlier today when Governor Cuomo declared a State of Emergency for the communities impacted by Lake Ontario flooding. He announced the state will deploy additional personnel and resources to assist with response efforts.

As water levels continue to rise, we will need to work together at all levels of government to prepare for what's to come, and to find a long-term solution to ensure this doesn't happen again.

Thank you to all the local leaders who have taken the time to meet and talk with me about their flooding concerns, especially Monroe County Executive Cheryl Dinolfo, Town of Sodus Supervisor Steve LeRoy, Town of Williamson Supervisor Anthony Verno, Town of Wolcott Supervisor Lynn Chatfield, Webster (town), New York Supervisor Ron Nesbitt, Town of Ontario Supervisor John Smith, and Village of Sodus Point Mayor Chris Tertinek."
What's next for those living in Sodus Point, though?
It's really not clear. It's not even clear who, or what is to blame for the flooding along the lake — or if it's just a matter of a wetter-than-usual spring.
This though, if these levels somehow become the norm — could be dangerous for the communities living along the lake.
---
Rick Davis at his lakefront property in #HamlinNY where he's been watching a portion of his land slide away #dandcpix #roc pic.twitter.com/KxH8RN8Ru6

— Carlos Ortiz (@cfortiz_dandc) May 2, 2017
Residents along Lake Ontario growing more concerned by the day
Seriously concerned. That's where people are at this point in Sodus Point.
The waters of Lake Ontario continue to rise about 4/10ths of an inch per day, according to local officials.
Boat launches at Arney's Marina are completely covered — it's the lowest point in all of Sodus Point. Sand bags surround buildings, homes, and businesses in hopes of keeping Lake Ontario's water away.
All of that is minor in comparison to the issues that could be experienced in the coming days.
At the end of the week, winds are expected to turn again out of the north, which could prompt serious concerns for those living along the shoreline.
Greig Street in Sodus Point still closed due to flooding. pic.twitter.com/Au3PqmYehq

— Amy Hudak (@amy_hudak) May 2, 2017
"We have two tanks at the sewer treatment plant, which we've been using one for years," says Mayor Chris Tertinek. "We're right now prepping to get the second tank online so we can use that tank."
Those tanks hold sewage and the system relies heavily on those tanks remaining operable.
If water continues to rise — then backup becomes a distinct possibility. It could back up into people's homes, property, or even Lake Ontario, which could be disastrous.
Hundreds of thousands of dollars in damage could be seen in the Village of Sodus Point alone if things do not drastically improve in the coming days.
This is what's happening on Lake Ontario owing to the very high water/wind/wave action.Courtesy of Donna Dengler, Banner Beach near kendall. pic.twitter.com/CeYQSc0apV

— Kevin Williams (@whec_kwilliams) May 2, 2017
The IJC has pushed blame away from Plan 2014, which some have said is the cause of this flooding. Those experts say that the water level at Lake Ontario would only be a couple inches lower if it were not for the recently adopted lake level plan.
That said, it was one of the last items that came out of the Obama Administration, which has caused it to be a hot button issue for some residents.
Over the weekend, State Sen. Pam Helming (R-54) called on the Governor to issue a State of Emergency, which would make FEMA assistance available for residents dealing with the pending flooding.
He has not yet announced any action on this front.
On the big lake… pic.twitter.com/NLUiLTBCwO

— Kevin Williams (@whec_kwilliams) May 2, 2017