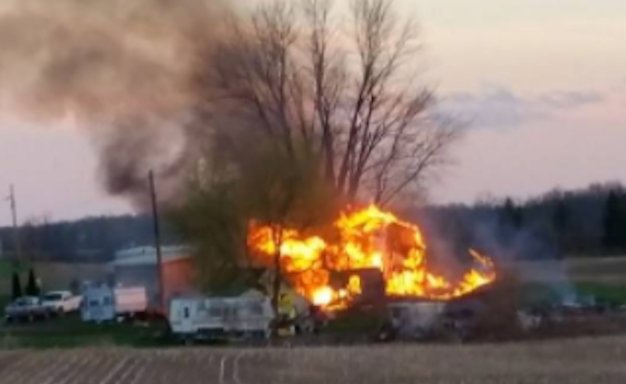 Two firefighters were injured, one being hospitalized while battling a structure fire at a vacant home, according to Seneca County Sheriff Tim Luce. While the structure was considered a complete loss, deputies say that one of those firefighters was even hospitalized.
Deputies say that on Monday at approximately 7:36 pm a structure fire was reported at 1318 Whiskey Hill Rd. in Junius.
The structure was a vacant house.
Deputies say that by the time they arrived the vacant house was completely engulfed with thick smoke filling the air.
Junius Fire Department was dispatched, and assisted by the Waterloo, Oaks Corners, Clyde and Seneca Falls Fire Departments.
North Seneca Ambulance was also on scene.
Crews worked tirelessly to put out the blaze and in the end the vacant house was a total loss.
Two firefighters were injured during operations on-scene:
One suffered from heat exhaustion; and
Another fell and suffered a laceration to the back of his head.
Both were treated on scene by North Seneca Ambulance with one being transported to Geneva General Hospital.
The owner of the property, Sarah E. Mitchell, 36, of Waterloo was notified.
Tenant Victoria Scharett, 27, who also lived on the property was able to get herself and her two small children across the street to safety.
Deputies investigated the fire and were assisted by the Junius Fire Department. It was discovered that Joshua Randall, 33, of the same address had lit a bonfire near the vacant house, which was then left unattended while he left in his vehicle.
Deputies also learned there was no insurance on the structure from either the property owner or the tenants. A 1995 Yamaha Motorcycle valued at $5,000 and a riding lawn mower valued at $800 were badly damaged during the fire.
The vacant house was considered no loss by the property owner.
Also assisting the Seneca County Sheriff's Office was the New York State Department of Environmental Conservation.
DEC officers responded and issued two tickets to Joshua Randall, for violating an active burn ban, which is a misdemeanor carrying a penalty of $500 up to $15,000. The second was a violation for an unattended fire, with a penalty of up to $250.
He is to appear in the Town of Junius Court at a later date