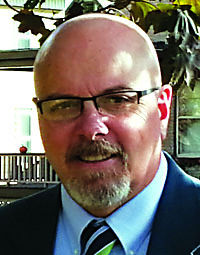 Supervisor Greg Lazzaro says he enjoys serving the community and people of Seneca Falls, but wants to see more cooperation and compromise.
On Monday, Lazzaro was a guest on Weber this Week, where he discussed the challenges associated with governing through polarizing political times.
The most-polarizing issue in Seneca Falls has revolved around the future of the Seneca Meadows Landfill.
Local Law No. 3 of 2016 or the Waste Disposal Law of Seneca Falls was passed too aggressively, according to Lazzaro. "You can't impose new rules and regulations on businesses after they're doing business in Seneca Falls. Especially when those laws would close the business," he said during the interview.
The local law would shut down the landfill on December 31st, 2025. It's been an issue that's drawn hundreds of speakers at public meetings, two protests, and dozens more expected at Wednesday's scheduled Public Hearing on a new local law aimed at dismantling the former.
"You always have to listen to the other side," Lazzaro explained. "Emotions are great to have, but when you become zealous about those emotions then it goes wrong because you always have to listen to the other side."
He added that communication is a crucial part of any dialogue.
Lazzaro attributed much of the growth in Seneca Falls to monies secured through the host agreement signed in 2007.
"We've built programs in recreation and law enforcement from money received by SMI," he added. Work on infrastructure is also part of the process — water, roads, and other items have been funded – at least partially by landfill money.
Lazzaro said that his own view of the landfill has evolved throughout the first year of his term.
New ownership and new people led to discussion on a new host agreement. Lazzaro referenced those discussions, which have been ongoing for several months now, despite the passage of the Local Law No. 3 in 2016.
Lazzaro said that he saw a significant improvement in the way Seneca Meadows worked with the community and it's leadership after new ownership took over in 2016.
He also said the three community forums held last year saw a strong turnout from both sides.
The Supervisor was asked to defend his decisions regarding the exclusion of signs at meetings, which he noted was a move made out of respect for people on both sides of the landfill issue.
Lazzaro said, "You start off with compromise, work towards a resolution. People need to listen and compromise at times."
He admitted emotions have run high on this issue in Seneca Falls. "Emotions are great to have, but when you become zealous about those emotions then it goes wrong because you always have to listen to the other side."
Lazzaro also called himself an environmental activist when asked about the Seneca Falls Environmental Action Committee. He said that the committee has no authority and is not sanctioned by the Seneca Falls Town Board. "I think we have enough committees. We have a Waste Management Advisory Board that's sanctioned by the Town Board."
Speaking about the upcoming Public Hearing on Local Law No. 2 of 2017 – Lazzaro said that community members will have the opportunity to sign up to speak on a sheet, at any point during the meeting slated to begin at 5 pm.
There will be no time limits on speaking, according to Lazzaro, which falls in line with state law. The Supervisor says exceptions will be made if defamatory remarks are thrown at individuals present.
The Public Hearing will be held at the Seneca Falls Community Center.
If passed, Local Law No. 2 of 2017 would rescind Local Law No. 3 of 2016.
FingerLakes1.com will be at the Public Hearing and will provide video coverage of the meeting.