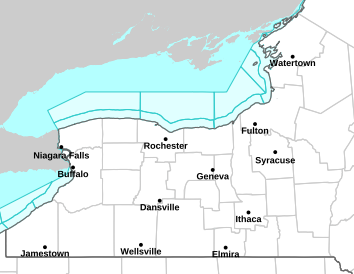 It won't be a widespread event, but there is the chance for some light mixed, or freezing precipitation on Friday.
The National Weather Service in Buffalo has issued a Winter Weather Advisory for freezing rain, which is active on Friday from 6 am until noon. The mixture of snow, sleet, and freezing rain could accumulate up to two inches in parts, making travel a challenge during the early-morning hours.
The entire region is included in Friday's advisory.
In a message from the Buffalo office, forecasters said, "A Winter Weather Advisory is normally issued for a variety of winter weather conditions such as light snow, blowing snow, sleet, freezing rain and wind chills. While the weather will be significant, the word advisory implies that severe winter weather is not anticipated."
Local Weather Resources:
— Western FLX
— Eastern FLX
— FingerLakes1.com Weather Center
— Thruway Conditions
Send FingerLakes1.com photos of weather in YOUR neighborhood by sharing them on Facebook, Twitter, Instagram, or by email here.