The South Seneca Lady Falcons continued their march towards back-to-back state titles with a decisive 73-34 victory over the Section VI Class C champion Frewsburg Bears at Buffalo State College on Saturday evening.
Coach Heather Mott's Falcons exploded out of the gate outscoring Frewsburg 18-4 in the opening quarter and extending their lead to 34-12 at the halftime break. They continued their dominance in the 3rd quarter outscoring the Bears 22-12 and eventually recording a 39 point victory and securing a return visit to Hudson Valley Community College next weekend for the NYSPHSAA Class C Final Four.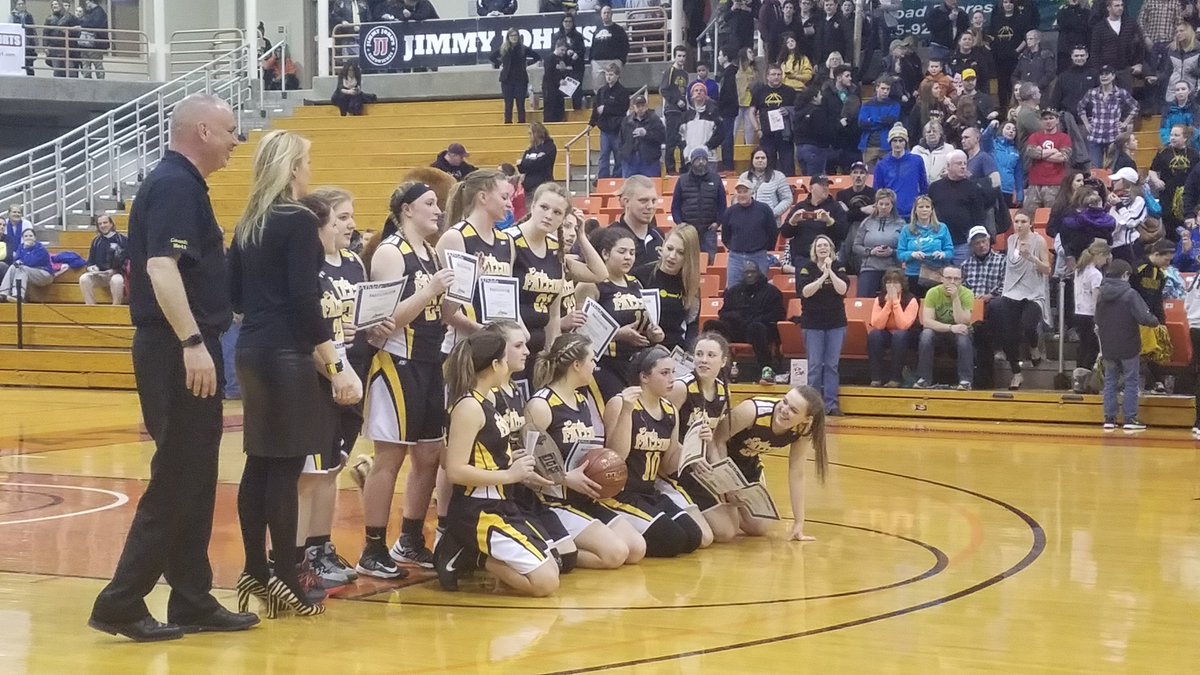 Emily Larvanway led a balanced effort from South Seneca with 14 points, 10 rebounds and 3 blocks. Bailey Mingus finished with 12 points, a game-high 11 rebounds, 4 steals and 3 blocks. Kelsey Shaulis scored 11 points and dished out 5 assists while sister Skylar scored 8 points, pulled down 8 rebounds and carded 4 assists. Mackenzie Kenyon added 10 points, 6 assists and 4 rebounds. In all, 10 Lady Falcons scored in the dominating victory.
South Seneca will play next in the NYSPHSAA Class C Semifinals against Port Jefferson on Saturday afternoon (3/18) at 2:15 pm at Hudson Valley Community College. If they win, they would advance to the state title game against the winner of Mekeel Christian Academy and Watkins Glen on Sunday 3/19 at 11:45 am. The potential match-up with Watkins Glen is an intriguing one as the two communities are located within just a few miles on each other near the south end of Seneca Lake.
Listen to the full game audio as Dave Barnick & Jim Sinicropi had the call for FL1 Sports
Broadcast Opens at 00:05:10
Interview with So. Seneca grad & Buffalo St. AD Jerry Boyes at 00:57:50
Postgame interview with So. Seneca starting five at 01:45:56
Postgame interview with Assistant Coach Bob Mott at 01:50:46
Postgame interview with Head Coach Heather Mott at 01:55:19
South Seneca rolls to 73-34 win! pic.twitter.com/cF9bB97cto

— FL Times Sports (@FLTimesSports) March 11, 2017
South Seneca downs Frewsburg in girls C final https://t.co/ofuVTpKILD

— Budd Bailey (@WDX2BB) March 12, 2017
South Seneca – Class C Far West Regional Champions! #PrepTalkLive @SectionVI @SectVGBB @WNYAthletics @NYSPHSAA pic.twitter.com/MMc0Bcd7Mo

— Section6GirlsBBall (@Section6GirlsBB) March 11, 2017
FINAL SCORE: Mynderse falls to Fredonia in Far West Regional pic.twitter.com/KSXkOeZFnT

— FingerLakes1.com (@FingerLakes1) March 12, 2017
South Seneca is heading back to the Final Four pic.twitter.com/PUT7skgFbh

— FingerLakes1.com (@FingerLakes1) March 11, 2017
*** FingerLakes1.com was live for a triple-header on Saturday as FL1 Sports brought you the Mynderse boys game at GCC, and the South Seneca and Mynderse girls games at Buffalo State. A total of 1,317 unique live listeners tuned in and assuming that many enjoyed the live stream with others, the actual number of listeners was likely over 2,000. FingerLakes1.com is proud to have brought you the action as it happened on Far West Regional Saturday on FL1 Sports. ***