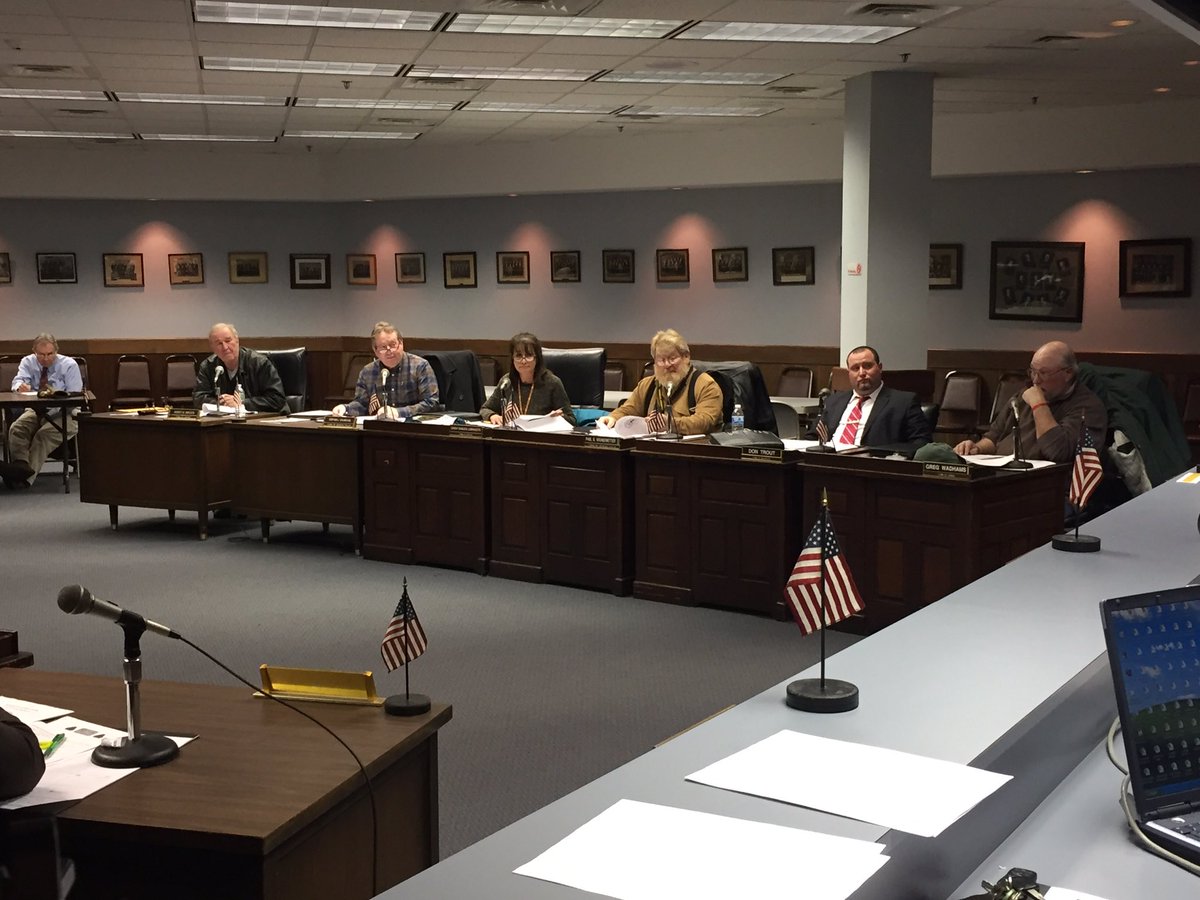 Fixing the New York State compliance issues with three waste water treatment plants in Seneca County is going to cost taxpayers a great deal in the long-term.
The Seneca County Board of Supervisors received an update from MRB Group addressing a series of required upgrades to treatment facilities in Sewer Districts No. 1 and No. 2.
The Hillside, Five Points and Willard waste water treatment facilities all require improvements and upgrades due to SPDES Permit Changes issued by the New York State Department of Conservation.
When permits expire technical reviews are executed by the DEC, which allows them to set new guidelines for the facilities under review.
The upgrades will cost millions. The way the county will handle the process of making the necessary changes is still subject to debate and conversation within the board.
There are two primary options on the table at this time:
– Upgrade all three facilities to meet the compliance requirements, which will cost a nearly $12 million or;

– Consolidate and upgrade the three facilities, which would cost nearly $14 million.
Both options would require the county to take on a long-term loan to pay for the upgrades. Neither option provides an easy way out for the county.
County Manager John Sheppard said on Tuesday that this would be a multi-year, all-encompassing series of projects that would require extensive effort from all parties involved.
Sheppard explained, "An infrastructure project like this is an anomaly." He continued, "Seneca County acquired three Special Districts from the closing of the former Seneca Army Depot. One water district and two sanitary sewer districts."
Greg Hotaling, who addressed the supervisors on Tuesday pointed out that consolidation would cost more up front — but would have an annual operational cost savings of approximately $350,000.
Sheppard called the prospective project "a true dilemma," citing increasingly stringent environmental regulations, which make maintaining compliance "increasingly difficult."
What needs to be addressed or fixed?
The assessment put together by the engineers at MRB make it clear that major steps will have to be taken. Sheppard pointed to the three New York State entities served within the district, as well as a large portion of south Seneca County, which highlights the sheer scope involved with this project.
"Three waste water treatment facilities are implicated, serving Five Points, Willard, and Sampson State Park, and a large portion of south Seneca County."  
Each of the three treatment facilities needs improvements or upgrades. The DEC has addressed the following items at each facility, which will contribute to the total cost:
Five Points
Facility upgrades would be phased in over the next two years.

– The surface overflow rates for the clarifiers is reduced from 1200 lb/day/ft2 to 900 lb/day/ft2. The existing clarifiers should be evaluated against this design criterion.

– Chemical precipitation will need to be added to the treatment system.

– Tertiary filtration will need to be enhanced. The current treatment step is a rapid sand filter that is not technologically feasible to achieve the 0.2 mg/L limit. The CT Male Evaluation of Five Points recommends disc filtration.

– Sludge production will increase by 25 to 35 percent. The aerobic digester should be evaluated to determine if adequate Mean Cell Residence Time is provided with the new waste sludge production rates.

– Chlorination/Dechlorination or some other means for disinfection (UV) will need to be added the treatment system.
Hillside
– Chlorine residual reduced to 0.02 mg/L
Willard
– The surface overflow rates for the clarifiers (currently in the center of the aeration tanks) is reduced from 1200 GPD/ft2 to 900 GPD/ft2 or in other words the existing clarifiers are too small. At minimum, new clarifiers will need to added to the treatment system.

– Chemical precipitation will need to be added to the treatment system.

– Tertiary filtration will need to be added to the treatment system. Most likely to achieve the 0.2 mg/L limit, disc filtration will be required. It is not likely that the existing sand filter could achieve the limit.

– Sludge production will increase by 25 to 35 percent and will likely require modifications to how solids are handled at the facility.

– Dechlorination will need to be added the treatment system which will include expansion of the chlorine contact tank.
What will all of this cost?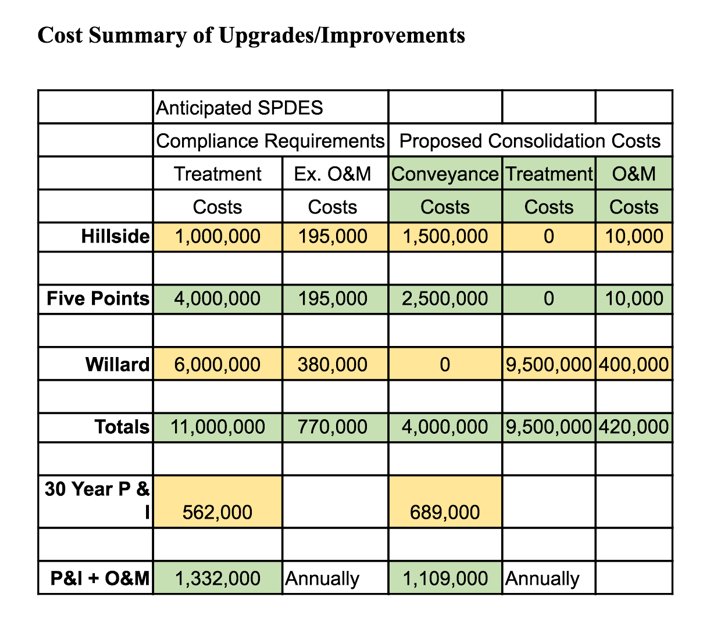 This partly depends on how the Board of Supervisors decides to proceed moving forward. MRB provided a cost-analysis, as well as a timeline to highlight how this major undertaking would unfold.
Fayette Town Supervisor Cindy Lorenzetti asked Hotaling if the County would be eligible for state dollars, since this falls under Gov. Andrew Cuomo's consolidation plan. She also wondered if having multiple state facilities within the impacted area would give the county an advantage when seeking grants to help pay for the DEC-mandated upgrades.
Taking the cost at face value — the breakdown looks like this to fall into compliance:

Five Points: $2,000,000 to $4,000,000
Hillside: $500,000 to $1,000,000
Willard: $4,000,000 to $6,000,000
The rounded cost expectancy is north of $11,000,000 no matter how the county proceeds, which makes the prospect of consolidation more appealing.
When would all of this take place?
It would happen in stages beginning on July 1st, 2017. If consolidation is selected, the construction on that project wouldn't begin until April of 2020. By June of 2021 the upgrades, changes, and consolidation efforts would be complete. The exact timeline was broken down as follows in MRB's report:
– Apply for a Preliminary Engineering Grant (CFA Funding) – July 1st, 2017
– Award of Preliminary Engineering Grant – December 1st, 2017
– Complete SEQR – April 1st, 2018
– Completion of Preliminary Engineering Report – June 1st, 2018
– Submission of PER/Application for Funding – June 1st, 2018
– Potential Funding Award – December 1st, 2018
– Start of the Design of the Consolidation Project – January 1st, 2019
– Bidding of the Consolidation Project – December 1st, 2019
– Construction Start of the Consolidation Project – April 1st, 2020
– Construction Completion – June 1st, 2021
The board did not take action on this matter during Tuesday's session. There was no formal resolution introduced. Sheppard noted that he invited MRB to the meeting to provide the supervisors with an update.
Sheppard explained that MRB's efforts to put together this report are really only an early, first step to addressing the compliance issues. "This is a very 'broad brush' analysis from engineers without the benefit of a formal preliminary engineering plan. MRB has begun to define the scope," which he noted is very important.
He also said that there's little leeway in terms of what the County can do. "The sewer districts can not operate without proper permitting. Permits will not be issued absent compliance with environmental standards," he said on Wednesday. "The necessary 'end state' is clear, the path has yet to be defined."
Seneca County will now be faced with defining that path into a very uncertain project.