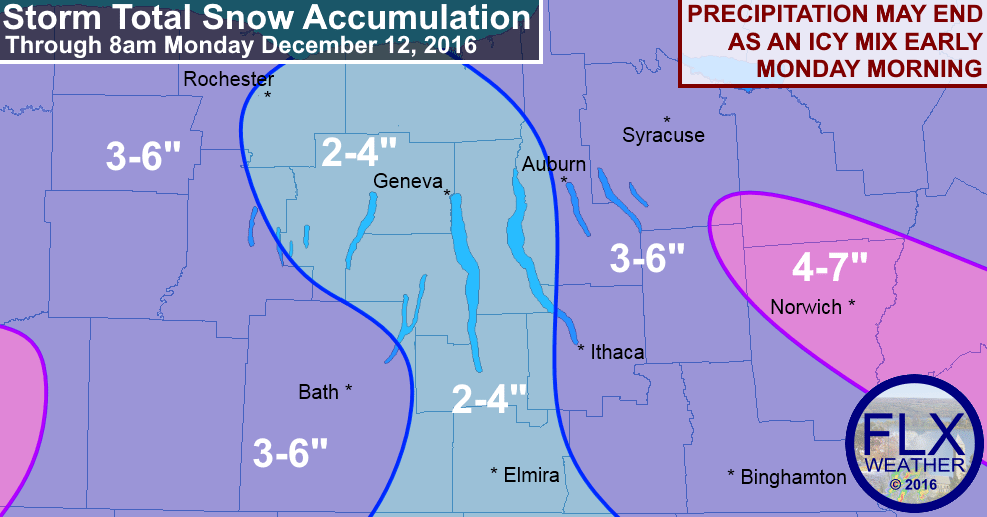 The Winter Weather Advisory  issued by the National Weather Service on Sunday remains active until 12 pm on Monday. When all is said and done the region will likely see 3 to 6 inches of snow, which will make that morning commute for the start of the work week challenging.
It shouldn't be enough to cancel or delay too many schools. Except for those in the eastern portions of Cayuga County, who are expected to see a little more snow than the rest of the Finger Lakes.
Counties included in the Winter Weather Advisory at this time include; Ontario, Monroe, Seneca, Cayuga, Yates, Tompkins, Schuyler, Steuben, and Onondaga.
Forecasters believe the snow will taper off during the early-morning hours from east-to-west between 6 and 8 am. The heaviest of snow will fall shortly before daybreak, which will mean those heading out to work between 3 and 6 am should plan for extra time in their commute.
When the snow tapers off, the weather pattern will be a cold one this week — as daytime highs will fall into the upper-teens by Thursday and Friday. Overnight lows will dip to near-zero during these days, and the cold air overtaking the region this week will also mean the threat of lake effect snow for some.
Stay tuned to FingerLakes1.com for the latest and download the FingerLakes1.com app for up-to-the-minute information and updates.
Local Weather Resources:
— Western FLX
— Eastern FLX
— FingerLakes1.com Weather Center
— Thruway Conditions
Send FingerLakes1.com photos of weather in YOUR neighborhood by sharing them on Facebook, Twitter, Instagram, or by email here.
More on this weather system slated to impact the Finger Lakes Sunday and Monday:
https://twitter.com/NWSBinghamton/status/807665438792486913