Three games involving Wayne-Finger Lakes boys varsity basketball teams were on the slate Thursday night. In the game of the night, Midlakes travelled west to battle Bloomfield in a game that needed overtime to decide.
Junior point guard Bryce Burri poured in 31 points as the Midlakes Screaming Eagles improved to 2-0 be defeating Bloomfield on their home court in overtime. Daryn Carswell had 18 point, 10 of them from the charity stripe on 10-15 shooting. Big man Trevor Milliman contributed 14 in the win. For the Bombers (0-2), Bryce Beechler had a huge game with 22 points and 15 rebounds, Patrick Geitner had 20, and Tanner Kimball had 10 points and 7 rebounds in the loss.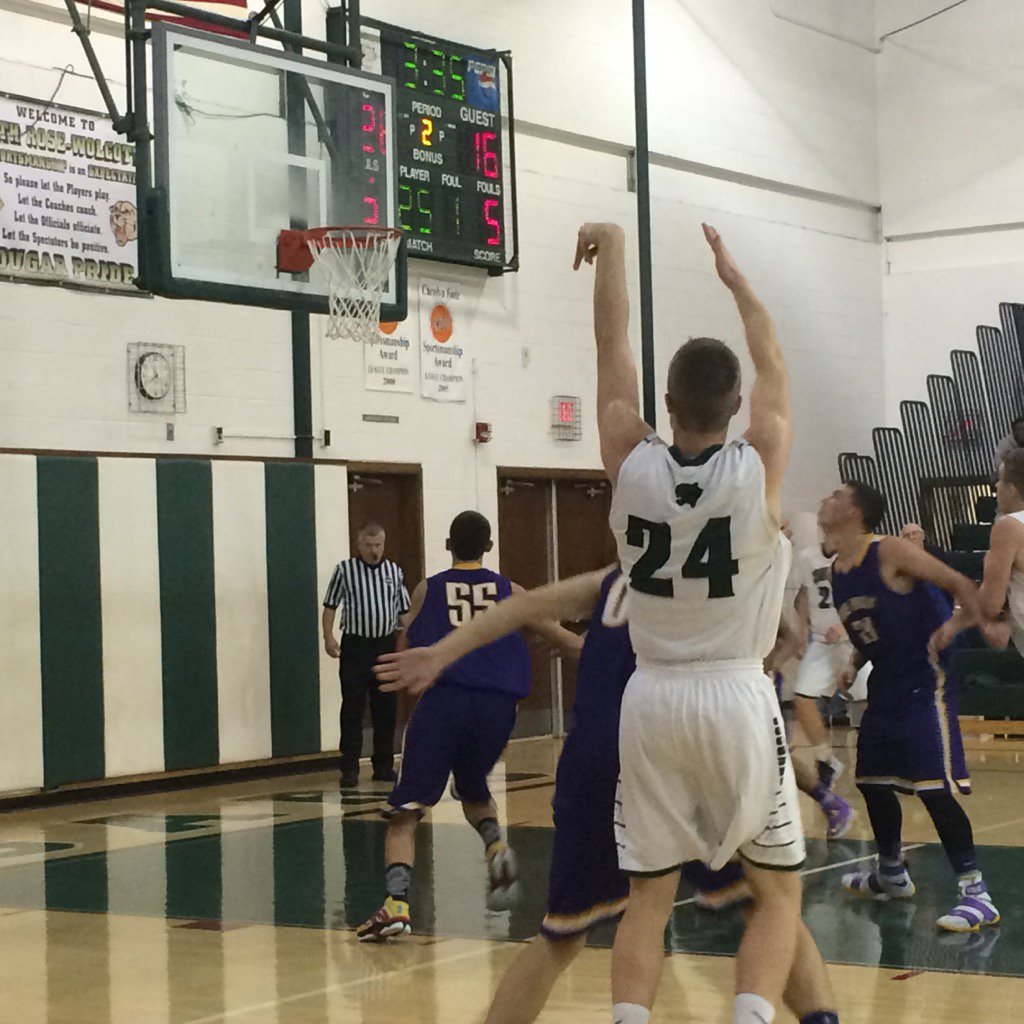 North Rose-Wolcott senior Tyler Norris out the Cougars on his back and carried his team past Sodus, 50-43, in an early season Wayne County league match-up. Norris scored 29 points on the night and pulled down 16 rebounds, more than any other player in the W-FL so far this year. He also recorded his 1,000th 998th varsity point in front of his home crowd. Norris was supported by Nate Sanford who scored 8 points and grabbed 7 rebounds. NR-W moved to 1-1 on the season and 1-0 in the league standings. Sodus, on the road for their opener, was led by 8 points from Maliq Burton and 7 from Danny Johnson. The win was the first varsity victory for 1st year NR-W head coach Paul McIntyre.
Lester Miller's Dundee Scots start their season at 2-0 with a 45-35 win at Hammondsport. Bobby Strait scored 10 and Tyler Brace had 8 points. Parker Watson led the scoring for Hammondsport with 11 points.
Bryce Burri's 31 points and Tyler Norris' 29 points were both single-game highs for Wayne-Finger Lakes scorers so far this season. Here's a look at the top single-game scoring outputs through the first 2 weeks of action…
31 – Bryce Burri MID vs Bloomfield 12/2
29 – Tyler Norris NR-W vs Sodus 12/2
23 – Tyler Tyson GEN vs NR-Wolcott 11/26
22 – Bryce Beechler BF vs Midlakes 12/2
21 – Nick Klein RC vs Hannibal 11/26
21 – Hunter VanDevelde PM vs C'daigua 11/29
21 – Patrick Geitner BF vs WOI 11/29
20 – Nick Klein RC vs Cato 11/25
20 – Tyler Norris NR-W vs Geneva 11/26
20 – Justice Smith LYO vs Marion 11/29
20 – Jamir Calloway ER vs Williamson 11/30
20 – Patrick Geitner BF vs Midaleks 12/2
In girls action, Newark was at home to face Dansville and the Reds would roll to an easy 53-21 win. Ladonia Smith had 10 points and 4 rebounds, Malia Banks had 9, and Carly Shear had 7 points and 6 assists to pace the Reds.
Also on Thursday night, the East Rochester Lady Bombers fell at Byron-Bergen, 59-38. Clyde-Savannah and Weedsport were also in action but the score has not been reported.




UPCOMING W-FL BOYS SCHEDULE:
FRIDAY
Sodus at South Seneca
#9 Marcus Whitman at #5 Wayne
#6 Lyons vs Waterloo (Hall of Fame Classic)
Weedsport vs #10 Penn Yan (Hall of Fame Classic)
#4 Clyde-Savannah at World of Inquiry
Red Creek at Gananda
Vertus at #8 East Rochester
Geneva vs TBA (Eastridge Tournament)
SATURDAY
Geneva vs TBD (Eastridge Tournament)
Jamesville-Dewitt vs #1 Newark (4 PM, Hall of Fame Classic on FL1 Sports)
Weedsport/#10 Penn Yan vs #6 Lyons/Waterloo (6 PM, HOF Classic Consolation on FL1 Sports)
Weedsport/#10 Penn Yan vs #6 Lyons/Waterloo (8 PM, HOF Classic Championship on FL1 Sports)
MONDAY
Red Creek at #2 Mynderse
NR-Wolcott at #4 Clyde-Savannah
Rochester Academy at #8 East Rochester
TUESDAY
UPrep at #1 Newark
Dundee at South Seneca
HAC at Red Jacket
Honeoye at #9 Marcus Whitman
Romulus at Bloomfield
FRIDAY'S W-FL GIRLS SCHEDULE:
Wayne at Mendon
Red Jacket at Midlakes
Jasper at Naples
Webster at Williamson
Geneva at Ithaca
THURSDAY NIGHT TWEETS:
Congrat to @TNor24 on a 1,000 career points, guess all those practices of me guarding you payed off.

— Stevie G (@Geffert_22) December 2, 2016
Good win tonight buddy @BryceBurri3 pic.twitter.com/rUcSZjlEtI

— Devon Burri (@Devon_Burri) December 2, 2016
See voting poll in next tweet for student section t-shirts. Keep in mind these are just rough drafts. Will be 15$ or under/a piece. pic.twitter.com/CGFfTqGJ4l

— Bomber Athletics (@Bombers_Sports) December 2, 2016
@hacathletics Congratulations @addyflood! High School Athlete of the Week – Addy Flood https://t.co/jVHeWRXXFH via @DandC

— Jason Hermance (@jchermance) December 2, 2016
Back to back buckets by Bloomfield has closed the gap to 17-13 @BloomfieldCCC @BCSBombSquad @MidlakesSports @sectvbb pic.twitter.com/QHYS67FNGl

— Jack Haley (@jackhaley42) December 2, 2016
Little hustle by both teams early @BloomfieldCCC @BCSBombSquad @MidlakesSports @sectvbb pic.twitter.com/9JPaEMC8Mr

— Jack Haley (@jackhaley42) December 2, 2016
W-FL BOYS STANDINGS THROUGH 12/2/16:
| | | | | | | | | | | | |
| --- | --- | --- | --- | --- | --- | --- | --- | --- | --- | --- | --- |
|   | FINGER LAKES EAST STANDINGS |   | W |   | L | GB |   | W |   | L | STK |
| 1 | MYNDERSE BLUE DEVILS | | 0 | – | 0 | – | | 4 | – | 0 | W4 |
| 2 | MIDLAKES SCREAMING EAGLES | | 0 | – | 0 | – | | 2 | – | 0 | W2 |
| 3 | GENEVA PANTHERS | | 0 | – | 0 | – | | 1 | – | 0 | W1 |
| 4 | WATERLOO INDIANS | | 0 | – | 0 | – | | 1 | – | 0 | W1 |
| 5 | NEWARK REDS | | 0 | – | 0 | – | | 0 | – | 0 | – |
| 6 | WAYNE EAGLES | | 0 | – | 0 | – | | 0 | – | 0 | – |
| 7 | PENN YAN MUSTANGS | | 0 | – | 0 | – | | 0 | – | 0 | – |
| 8 | PAL-MAC RED RAIDERS | | 0 | – | 0 | – | | 0 | – | 1 | L1 |
| | | | | | | | | | | | |
|   | FINGER LAKES WEST STANDINGS |   | W |   | L | GB |   | W |   | L | STR |
| 1 | DUNDEE SCOTS | | 1 | – | 0 | – | | 2 | – | 0 | W2 |
| 2 | RED JACKET INDIANS | | 0 | – | 0 | .5 | | 1 | – | 1 | W1 |
| 3 | HONEOYE BULLDOGS | | 0 | – | 0 | .5 | | 0 | – | 1 | L1 |
| 4 | ROMULUS WARRIORS | | 0 | – | 0 | .5 | | 1 | – | 0 | W1 |
| 6 | BLOOMFIELD BOMBERS | | 0 | – | 0 | .5 | | 0 | – | 1 | L1 |
| 7 | MARCUS WHITMAN WILDCATS | | 0 | – | 0 | .5 | | 0 | – | 1 | L1 |
| 8 | NAPLES BIG GREEN | | 0 | – | 0 | .5 | | 0 | – | 1 | L1 |
| 8 | SOUTH SENECA FALCONS | | 0 | – | 0 | .5 | | 0 | – | 1 | L1 |
| 9 | H.A.C. WOLVES | | 0 | – | 1 | 1 | | 0 | – | 1 | L1 |
| | | | | | | | | | | | |
|   | WAYNE COUNTY STANDINGS |   | W |   | L | GB |   | W |   | L | STR |
| 1 | LYONS LIONS | | 1 | – | 0 | – | | 2 | – | 0 | W2 |
| 2 | EAST ROCHESTER BOMBERS | | 1 | – | 0 | – | | 1 | – | 0 | W1 |
| 3 | NORTH ROSE-WOLCOTT COUGARS | | 1 | – | 0 | – | | 1 | – | 1 | W1 |
| 4 | CLYDE-SAVANNAH GOLDEN EAGLES | | 0 | – | 0 | .5 | | 0 | – | 1 | L1 |
| 5 | GANANDA WILDCATS | | 0 | – | 0 | .5 | | 0 | – | 1 | L1 |
| 6 | RED CREEK RAMS | | 0 | – | 0 | .5 | | 0 | – | 2 | L2 |
| 7 | SODUS SPARTANS | | 0 | – | 1 | 1.0 | | 0 | – | 1 | L1 |
| 8 | WILLIAMSON MARAUDERS | | 0 | – | 1 | 1.0 | | 0 | – | 1 | L1 |
| 9 | MARION BLACK KNIGHTS | | 0 | – | 1 | 1.0 | | 0 | – | 3 | L3 |
Check out a triple-header of hoops action on Saturday, LIVE on FingerLakes1.com…