How the I Love New York 355 Monster Energy NASCAR Cup Series race at Watkins Glen International Raceway played out:
Truex, the Cup Series points leader, let a few cars pass him during the final stage and slowed his lap times down considerably in an effort to save maximum fuel to make it to the checkered flag. His strategy payed off as other front runners were forced to hit pit road for a splash of gas to finish the race. Read More | Results & Stats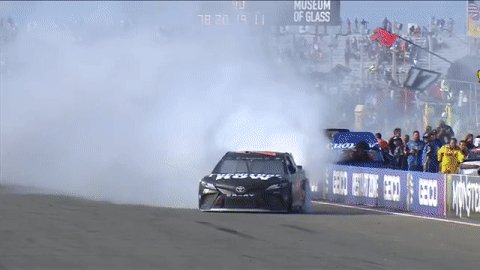 WINNER: Martin Truex Jr. earned his fourth victory of the season, holding off Matt Kenseth Sunday to win for the first time at the New York road course.
Got a minute? Check out the rapid recap of today's thrilling race from @WGI! #NASCARonNBCSN #ILoveNY355 pic.twitter.com/VsS7ykRAlV

— NASCAR on NBC (@NASCARonNBC) August 6, 2017
Fuel king!@MartinTruex_Jr saves enough fuel to capture the win AND to burn it down. #ILoveNY355 pic.twitter.com/V6xjSyWmhz

— NASCAR (@NASCAR) August 6, 2017
Another @WGI dustup for @KyleBusch and @Keselowski. What they had to say about. https://t.co/lAruKYSfLJ

— NASCAR on NBC (@NASCARonNBC) August 6, 2017
No major shifts in the points standings, but they remain really tight near the cutoff line! #NASCARonNBCSN #VictoryLap pic.twitter.com/7oOitgNqa2

— NASCAR on NBC (@NASCARonNBC) August 6, 2017
.@ColePearn had bittersweet weekend: his team won Sunday's race @WGI, but he lost his best friend to death. https://t.co/KvGqqCAupY

— NASCAR on NBC (@NASCARonNBC) August 6, 2017
Retweet to congratulate @MartinTruex_Jr on the #ILoveNY355 win! pic.twitter.com/Uh8W8d77LA

— Watkins Glen Int'l (@WGI) August 6, 2017
Pit strategies were a study in contrasts during I Love New York 355 @WGI https://t.co/V7hqJjtdAu

— NASCAR on NBC (@NASCARonNBC) August 6, 2017
MORE COVERAGE ONLINE:
– Martin Truex Jr.'s gamble pays off with NASCAR Cup win (Los Angeles Times)
– Said, Earnhardt appreciative of WGI support after tough finales (IthacaJournal.com)
– THE GLEN: Camping as much a draw as the race for WGI fans (IthacaJournal.com)