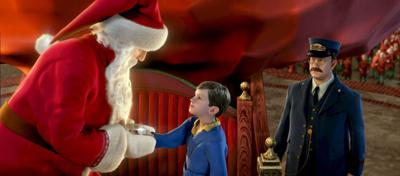 A line of families stretched from Track Cinema's doors to the Fingerlakes Mall's food court as they eagerly waited to see "The Polar Express" Sunday.
For 25 cents, people of all ages could purchase a ticket to see the holiday film at the Track Cinema inside the Aurelius shopping center.
Moviegoers were greeted by train whistles and a conductor at the door who handed out golden tickets. After the movie, children had their pictures taken with Santa while he gave them the "first gift of Christmas."
"I love 'The Polar Express,'" said 11 year-old Brandi Welker. "I've seen it a thousand times, but never in the theater."
Sunday's was the second special showing of the Christmas film, following a similar opportunity for people to see the movie for a quarter on Saturday. Track Cinema will show another screening of the movie Sunday, Dec. 23, at 9:15 p.m.
The Auburn Citizen:
Read More