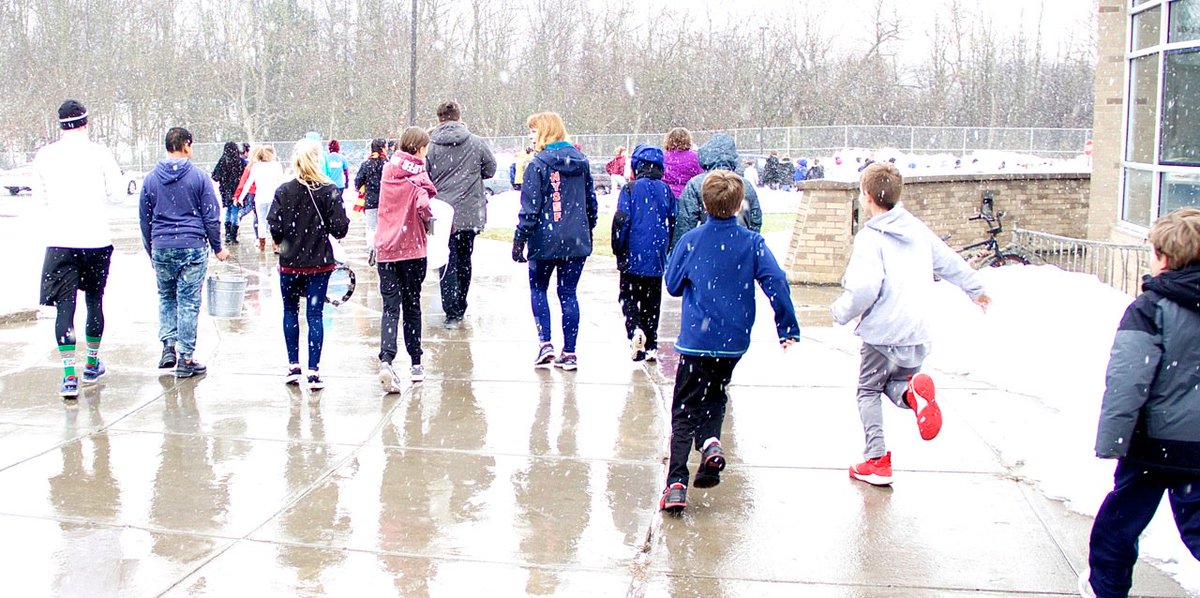 More than 275 Newark Middle School students and staff participated in the first Turkey Trot November 20th.
Braving chilly air and snow flurries, participants ran from front entrance of NMS to the Newark Central School District bus garage on nearby Woodlane and back. The route is about a mile.
They were cheered along the way by some NMS students and staff including some who played bucket drums.
Depending on how fast participants could run or walk, the event was wrapped up within an hour and culminated shortly before the school day ended in the gymnasium with those completing the event in the fastest times each being awarded a good-sized frozen turkey.
There was one staff winner awarded as well as a boy and girl who finished first from each grade level.
Winners were:
Staff:  NMS Physical Education teacher Henry Kuperus
6th Graders:  Michael McGavisk and Averi Verbridge
7th Grader:   Ethan Coleman and Taya Hilfiker
8th Graders: Kayden Hughes and Kathryn Verdine
Those students who chose not to run, made Thanksgiving cards and crafts at the school while the Trot ensued.
NMS instructional coach Lisa Eakins _ one of the advisors to the NMS Leadership Team _ was one of the many organizers of the first NMS P.R.I.D.E (Perseverance, Respect, Integrity, Dedication, Excellence) Day event this school year.
It was designed to reward students for reaching the benchmark of the end of the first quarter of the school year.
"We will have other P.R.I.D.E. Days throughout the school year that recognize the hard work and effort by students and build community within our school," Eakins said. "I think everyone enjoyed ending the school day before the Thanksgiving Day break with this event."