Connecticut went on a 13-0 run midway through the first half to erase a Cornell lead and held off the Big Red despite a game-high 26 points from Matt Morgan as the Huskies earned a 91-74 victory on Tuesday evening at the XL Center. UConn improved to 4-1, while Cornell dropped to 3-3.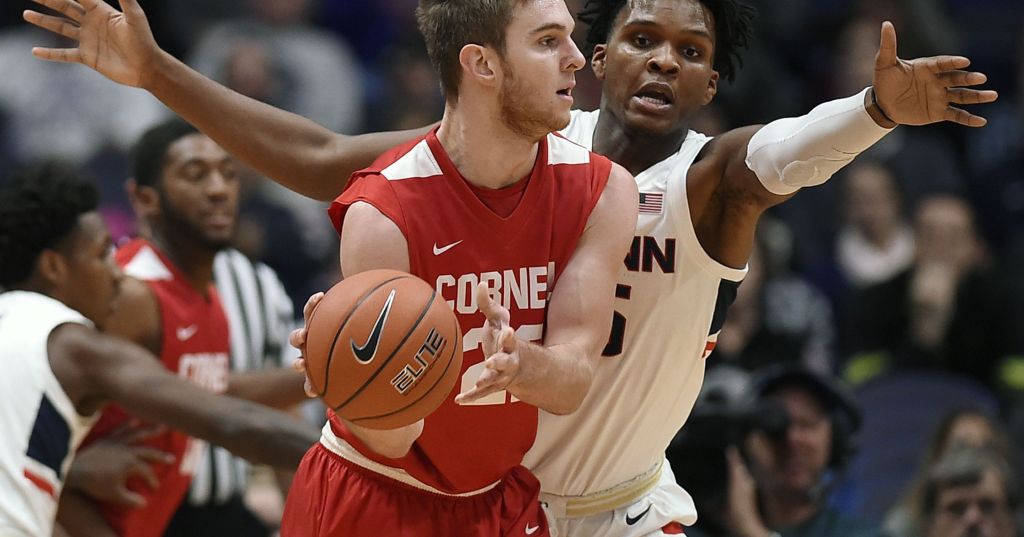 Morgan's 26 came on 11-of-15 shooting and added four rebounds, two blocked shots and a steal in a losing effort. In the process, he moved into ninth on the Ivy League's all-time scoring list. Josh Warren scored 10 and both Troy Whiteside and Jack Gordon scored eight points, with Gordon adding four assists. The Big Red shot 46 percent overall and assisted on 17 of the team's 24 made baskets. Read More | Box Score (CornellBigRed.com)
HIGHLIGHTS:
MORE COVERAGE:
MBKB I That's a final from the XL Center. UConn tops @CUBigRedHoops 91-74. Cornell now 3-3 on the year. Matt Morgan with a game-high 26 points. Back in action on Nov. 28 at Lafayette. #YellCornell pic.twitter.com/6951pM9gIZ

— CornellSportsGameday (@CUBigRedGameday) November 21, 2018
Your @CUBigRedHoops takes the floor at the XL Center. Tip-off vs. UConn in 30 minutes on SNY and ESPN3. pic.twitter.com/Y8W0uPJr1u

— Cornell Big Red (@CornellSports) November 20, 2018
UConn, with one turnover during the first 12 minutes, took control with a big first-half spurt and polished off the Big Red at the XL Center in Hurley's Hartford debut.https://t.co/9QU9EUwifL

— Hartford Courant (@hartfordcourant) November 21, 2018
#UConn Photo Gallery: Cornell Big Red vs @UConnMBB – 11/20/18 https://t.co/ET9Xow1fan pic.twitter.com/Mp7rjPskXe

— Ian Bethune (@Ian_Bethune) November 21, 2018
---
PREVIEW:
On its longest road win streak in six years, Cornell will face a big roadblock in continuing it when it visits Connecticut on Tuesday, Nov. 20 at 7 p.m. at the XL Center in Hartford, Conn. The contest will be broadcast live on SNY with Gary Apple and Tim Welsh on the call and Maria Marino on the sidelines. Cornell's modest three-game road streak is the longest since 2012-13.
CornellBigRed.com: Read More
We're 7 hours from tip at the XL Center. Watch @CUBigRedHoops vs. UConn tonight at 7 pm. pic.twitter.com/eRoEMmg8QY

— Cornell Big Red (@CornellSports) November 20, 2018
Morning shoot around for the Big Red!
Game vs UConn tonight at 7pm!
📺 ESPN3#GoBigRed #NewmanNation pic.twitter.com/5FdBptY9Yr

— Cornell Basketball (@CUBigRedHoops) November 20, 2018
.@CUBigRedHoops handled NJIT easily beating them 86-73. The Red are heading into a 3-game away stretch marked with matchups against UConn and Syracuse. https://t.co/zKMCxblvSS

— The Cornell Daily Sun (@cornellsun) November 19, 2018