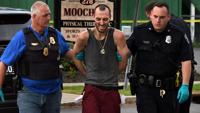 Four Auburn residents made appearances in Cayuga County Court Thursday morning to plea guilty to, or be sentenced for, their involvement in a May burglary that led to a police chase in Auburn.
Last week in court, James Bell, 42, of 124 Fulton St., admitted to entering a detached garage on Holley Street on May 30 with the intent to commit larceny. He pleaded guilty to one count of third-degree burglary, reduced from his initial indictment for second-degree burglary, a class C felony.
Bell, a second felony offender, named a handful of codefendants, among them Jerad Stiles, 30, and Aaron Peters, 32, who were also charged with dozens of felonies following the burglary which ultimately led to a brief police pursuit in Auburn on May 31.
The Auburn Police Department's investigation of the Holley Street burglary complaint led officers to the parking lot of the Westside Plaza, where the APD and Finger Lakes Drug Task Force observed long guns being passed from one vehicle to another.
AuburnPub.com:
Read More