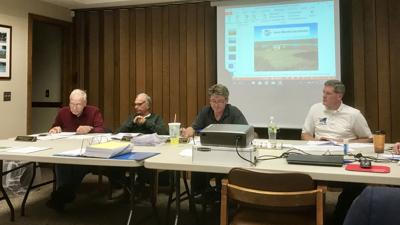 With the approval of its 2019 budget Thursday, the Owasco Town Council voted to make substantial shifts in the way the town funds its water service.
The town's overall total appropriations for 2019 are $1,932,527, a 2-percent increase from the current spending plan. The amount to be raised by real property taxes for the general and highway funds is $307,325, more than double the amount in 2018. But overall taxes, including those collected for special districts, such as sewer and water, are going down by more than $93,000, said Supervisor Ed Wagner.
The town does not plan to override the state-imposed tax cap.
The increase of the amount to be raised by real property taxes is largely a product of $200,000 being added into the budget for Owasco's proposed sidewalk project, as well as a shift in how the town is funding watershed inspections.
Salaries for officials included in that budget are $14,106 for the town supervisor, $7,530 for the deputy supervisor, $3,950 split among the rest of the town board, $44,958 for the town clerk, $54,037 for the highway superintendent and $8,423 for the town justice.
Two major shifts in how the town of Owasco conducts its water business were also reflected in the final 2019 budget.
AuburnPub.com:
Read More