Syracuse and Notre Dame arrived in the city of dreams with glorious postseason aspirations in the most meaningful college football game of the week.
The Fighting Irish (11-0) left with theirs intact, marching toward a spot in the College Football Playoff.
The Orange (8-3, 5-2 ACC), dreaming of an improbable New Year's Six bowl in its third season under Dino Babers, had the identity that guided it to this stage shaken in a 36-3 loss that felt like it could've been by a wider margin in front of a sellout crowd of 48,104. Read more at Syracuse.com
GAME RECAPS:
HIGHLIGHTS:
COACH BABERS POST GAME:
MORE COVERAGE & TWEETS:
– Dungey's departure, DeVito's disappointment and more from Syracuse's loss to Notre Dame (Daily Orange)
– Three takeaways from Notre Dame's beat down of Syracuse (NunesMagician.com)
https://twitter.com/chicagoinformer/status/1063947686376808449
– Syracuse football QB Eric Dungey leaves Notre Dame game due to injury (Syracuse.com)
– Syracuse football starting DB Antwan Cordy, DT Josh Black out for Notre Dame (Syracuse.com)
We'll go back to work and prepare to finish the regular season strong at Boston College. pic.twitter.com/lQIrIaAitn

— Syracuse Football (@CuseFootball) November 17, 2018
👀 @NikoTamurian & @miketirico talking @CuseFootball pic.twitter.com/mGK3GyIkJc

— Syracuse Athletics (@Cuse) November 17, 2018
https://twitter.com/openomroep/status/1063947563718586369
---
PREVIEW:
Start spreading the news, it is finally game day for 'Cuse and Notre Dame in New York City.
Syracuse makes its ninth trip to Yankee Stadium when the No. 12 Orange face No. 3 Notre Dame (10-0) in their penultimate regular-season contest. Kickoff is set for 2:30 p.m. and the game will be televised nationally on NBC.
The Orange's climb up the national polls continued for a third straight week after an emphatic 54-23 win versus Louisville Friday night. Syracuse checked in at No. 12 in both the Associated Press Top 25 poll and Amway Coaches Poll, its highest AP ranking since being ranked No. 11 on Sept. 28, 1998.
And Syracuse has no interest in stopping there. The focus has been on putting together the best second half of the season that it could and the team has responded by going 4-0 since its bye week. Now for head coach Dino Babers and the Orange, it's a matchup against the storied Fighting Irish in one of the country's most recognizable venues. Read More
MORE ORANGE-IRISH COVERAGE:
– Preview: Orange, Irish Battle in the Bronx (Cuse.com)
– What channel is Syracuse football-Notre Dame on? TV, time, live stream info (Syracuse.com)
– Syracuse vs. Notre Dame preview: Five things to watch (NunesMagician.com)
– Notre Dame broadcaster, Syracuse alum, Mike Tirico won't let loyalties show (Syracuse.com)
– ND unveils pinstripes for Yankee Stadium game (Yankees.com)
Notre Dame vs. Syracuse: Big game on a big stage in NYC https://t.co/WynVRq8hYo pic.twitter.com/iYe4gRIXCi

— New York Post (@nypost) November 17, 2018
– Dino Babers talks Jim Boeheim, Eric Dungey with Coach K (Syracuse.com)
– Syracuse football won Dino Babers' trust 3 years ago; to keep him, it must do so again (Syracuse.com)
– Big game on any stage: No. 3 Notre Dame vs. No. 12 Syracuse (WHEC)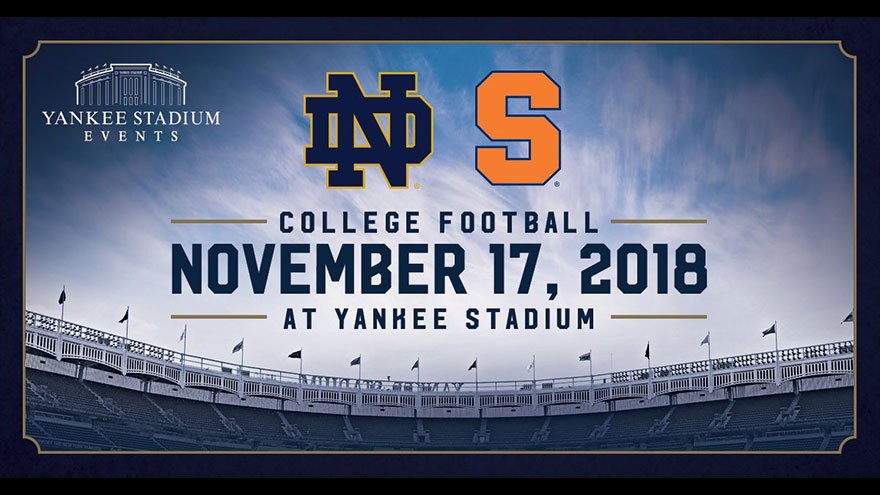 – SU vs. Notre Dame football preview: Q&A with One Foot Down (NunesMagician.com)
– Syracuse fans could be outnumbered 4-to-1 by Notre Dame fans (Syracuse.com)
– Syracuse moves up to 12th in CFP rankings (NunesMagician.com)
– Syracuse vs. Notre Dame: Orange wearing all-white uniforms (NunesMagician.com)
– No, Syracuse football did not move Notre Dame game to Yankee Stadium (Syracuse.com)
– Yes, SU does have a path to the College Football Playoff (LINKS) (NunesMagician.com)
– Dino Babers: Why Syracuse isn't walking through Yankee Stadium; CB injury update (Syracuse.com)
– 4 games that will shape Syracuse football's New Year's Six bowl picture (Syracuse.com)
– Why isn't ESPN's College GameDay in New York for Syracuse-Notre Dame? (Syracuse.com)
– Syracuse football moves up in College Football Playoff rankings (Syracuse.com)
– Syracuse football announces uniform combination for Notre Dame game (Syracuse.com)
– Syracuse football-Notre Dame betting line: Irish open as 9.5-point favorite (Syracuse.com)
– Syracuse-Boston College game set for noon start (Cuse.com)
– What's college football saying about Syracuse after Week 11? (NunesMagician.com)
– Dino Babers won't get caught up in Notre Dame hype (video) (Syracuse.com)
– Syracuse opens as 9.5-point underdog vs. Notre Dame (NunesMagician.com)
– Dino Babers 'hoping' to have CBs Bradshaw, Melifonwu for Notre Dame (Syracuse.com)
– Syracuse football recruiting: 4-star LB Mikel Jones 'very high' on SU after visit (Syracuse.com)
Help us Dino Babers, you're our only hope pic.twitter.com/HLGWia9Dxp

— Syracuse Memes™ (@Cusememes) November 16, 2018
Sciria: Notre Dame joins Syracuse in tossing tradition aside with NY Yankee-inspired unforms https://t.co/5aoKK4aVi2 pic.twitter.com/FvnAgbKqJj

— The_Citizen (@The_Citizen) November 15, 2018
Iced out. ❄❄❄ pic.twitter.com/gqqlUOVS4M

— Syracuse Football (@CuseFootball) November 13, 2018
🗽 Yankee Stadium.
🗽 Top-15 matchup.
🗽 #ShamrockSeries.

When #uNDefeated No. 3 @NDFootball and Syracuse meet on Saturday at 2:30 p.m. ET on NBC, there will plenty to watch.#GoIrish #BeatOrangehttps://t.co/5Q0rwZ4LVj

— The Fighting Irish (@FightingIrish) November 16, 2018
Using our Power Ratings, these would be the opening lines in a 16-team playoff.

Iowa State @ Alabama (-23.5)
WVU @ Wash St. (+1)
Florida @ UGA (-15)
Syracuse @ Michigan (-16.5)

Texas @ Clemson (-21)
Ohio State @ LSU (+3)
PSU @ OU (-12.5)
UCF @ ND (-15.5)

pic via @soonerfbfans pic.twitter.com/hKwL9mpLnf

— Action Network (@ActionNetworkHQ) November 16, 2018
We defended the Dome. Now we have to defend our state.

'Cuse vs. Notre Dame. Saturday at Yankee Stadium pic.twitter.com/x9rcjENgIL

— Syracuse Football (@CuseFootball) November 14, 2018
Hear what @CoachBabersCuse had to say before @CuseFootball's top-12 showdown at Yankee Stadium on Saturday in this week's 'Cuse Insider. pic.twitter.com/1tid2m8Pc1

— Syracuse Athletics (@Cuse) November 16, 2018
Syracuse-Notre Dame is the Orange's biggest game in years.@JohnCassillo of @NunesMagician breaks down their special season, and what they have to do to beat NDhttps://t.co/P6yFjLVL7mhttps://t.co/renhJoPQeT pic.twitter.com/HZg07o2y8k

— Colton Denning (@Dubsco) November 14, 2018