A game-high 20 points from Oshae Brissett led the Syracuse (1-0) to a 66-38 season opening victory against Eastern Washington (0-1) Tuesday night at the Carrier Dome. The contest was the first of four for the Orange in the 2K Empire Classic benefiting the Wounded Warrior Project.
The only player from either team to record double-digit points, Brissett also led both teams with eight rebounds and three steals. His 20 points came on an 8-of-15 (.571) shooting performance, and his eight field goals tied a career-high.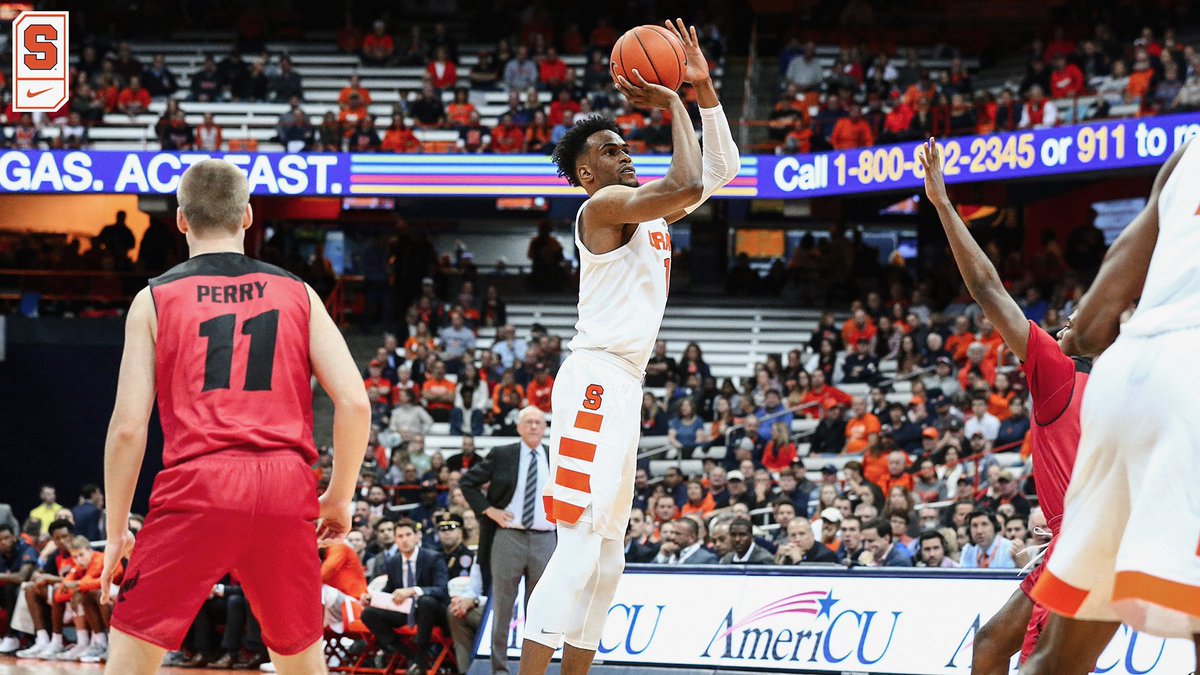 Tyus Battle and Bourama Sidibe added eight points each and a total of eight Syracuse (1-0) players tallied a basket. In his Orange debut, Elijah Hughes notched a career-high seven rebounds and three steals.
HIGHLIGHTS:
COACH BOEHEIM POST GAME:
MORE COVERAGE:
– Three takeaways from Syracuse men's basketball win over Eastern Washington (NunesMagician.com)
– Jalen Carey, ankle nearly healed, makes Syracuse basketball debut (Syracuse.com)
– Syracuse basketball's Howard Washington calls return from torn ACL 'a relief' (Syracuse.com)
– Tickets for Syracuse-Duke home game on sale (Cuse.com)
No. 35 on the Orange roster in 1966 & 2018 pic.twitter.com/h3dmpfCENq

— Syracuse Men's Basketball (@Cuse_MBB) November 6, 2018
You ready? 🍊🏀 pic.twitter.com/DzABqVI5Hm

— Syracuse Men's Basketball (@Cuse_MBB) November 6, 2018
---
PREVIEW:
Syracuse officially starts its men's basketball season Tuesday at 7 p.m. in the Carrier Dome when Eastern Washington visits.
The game, which is part of the 2K Classic that culminates next week in Madison Square Garden, will be played on ACC Network Extra.
ACC Network Extra is not available (yet!) on traditional television channels but is available to ESPN subscribers. It is a streaming service that can be accessed via the Watch ESPN app. Read More
ORANGE HOOPS COVERAGE:
– Tyus Battle returns to lead Syracuse basketball: 'He didn't want to abandon us' (Syracuse.com)
– Optimism abounds as Syracuse men's basketball prepares to open season (D&C)
– Syracuse point guard update: Two game-time decisions and a doubtful (Syracuse.com)
– Hall of Fame dad: How Jim Boeheim's 3 kids grew up to play college hoops (D&C)
– Syracuse's lineup versatility flashed in two preseason wins (NunesMagician.com)
– Beat writers predict Syracuse men's basketball season record, MVP and X-Factor (Daily Orange)
– TNIAAM 2018-19 Syracuse men's basketball season predictions (NunesMagician.com)
– After handling loss, Syracuse's Frank Howard was wired to win (NunesMagician.com)
– Syracuse basketball guard Shaun Belbey plans to redshirt this season (Syracuse.com)
– Syracuse-Duke men's basketball tickets go on sale to public on Tuesday (Syracuse.com)
– Syracuse limping into season opener vs Eastern Washington (WHEC)
So let's have some fun with this, as Syracuse Basketball gets underway, here's some preseason bracketology. Let's see how this looks come Selection Sunday (also St. Patrick's Day) @CNYcentral

ESPN: 4-seed
NBC: 4-seed
CBS:- 5-seed
Andy Bottoms: 5-seed
Sports Illustrated: 6-seed pic.twitter.com/zXmGyyPgas

— Niko Tamurian (@NikoTamurian) November 6, 2018