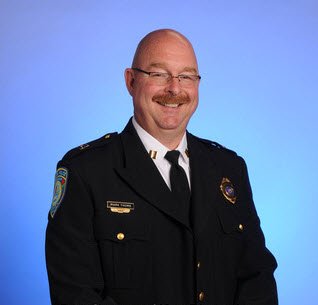 The Village of Newark announced that Interim Chief Mark Thoms has been appointed as the permanent Chief of Police.
Chief Thoms has worked his way up through the ranks, first joining the Newark Police in 1985 as a patrolman. Since then, his duties have included everything from dispatching calls for service to grant writing. Other responsibilities have included creation and implementation of department policies as well as monthly scheduling and deployment of all department personnel.
Consistently excelling in supervisory positions, Chief Thoms has proven himself to be a leader in all aspects of his career.
Mark and his wife Mary, who is a teacher, have four children: Brett (Carolyn) Thoms currently residing in Atlanta, Georgia, Alex (Olesia) Thoms currently residing in Missoula, Montana, Kelsey Thoms, and Katie Thoms. They have one granddaughter, Laila Isham.
"Mark has been dedicated to the Village of Newark for more than 30 years," stated Mayor Jonathan Taylor. "He has been a great asset and I look forward to working with him in his new role as Police Chief. He brings an experienced, yet fresh perspective to the position."
Police Commissioner Stu Blodgett added, "As a longtime member of the Newark Police Department, Mark is a great choice to lead our Police Department into the future. Even prior to this promotion, he has always been highly respected by the officers in the Newark Police Department and local the law enforcement community. Mark is an approachable leader, who cares greatly about his community and its citizens. Newark is very fortunate to have Chief Thoms and I personally look forward to working with him."