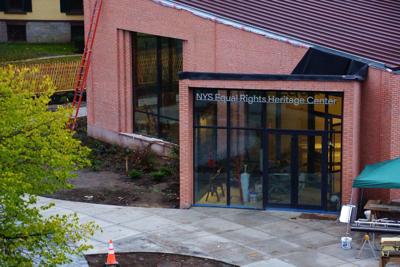 The New York State Equal Rights Heritage Center is seeking local producers of food items to be part of the Taste NY Market that will be located there.
The market will be operated by Cornell Cooperative Extension of Tompkins County, which is looking for producers of honey, maple, dairy, baked goods, jams and jellies, pickles and other fermented items, sauces and condiments, flours and mixes, nonalcoholic beverages, candy and other foods. Non-food items like pottery, soaps, candles and sewn or knitted goods are sought as well.
The market's mission is to showcase New York-made products at the center while supporting agriculture and small businesses across the state. Taste NY is the state's official eat-local, drink-local program, launched by Gov. Andrew Cuomo in 2013 and overseen by the Department of Agriculture and Markets.
The center, a project of the city of Auburn, is scheduled to open in mid-November.
For more information, or to inquire about featuring products at the market, contact Debbie Teeter at Cornell Cooperative Extension of Tompkins County at (607) 272-2292 or [email protected]
The Auburn Citizen:
Read More