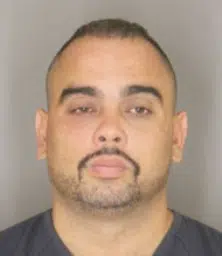 A Yates County grand jury has indicted Paul Khouzam on second-degree murder, first-degree burglary, two counts of third-degree criminal possession of a weapon, and aggravated cruelty to animals after a violent, summertime incident involving his widowed mother.
The charges stem from a violent, August 6th domestic incident, which took place on Arrowhead Beach Road in the Town of Torrey. Khouzam is accused of breaking into the home of his widowed mother – killing her dog; and then bludgeoning and stabbing her to death with a hammer and knife.
Magda Khouzam-Daoud, 67, was a physician formerly practicing with Finger Lakes Health in Dundee as Dr. Daoud. According to Yates County Sheriff Ron Spike, She was discovered unconscious and bleeding in the basement of her home after Yates County Deputies took Khouzam, 37, of Branchport, into custody as he was walking on the road. She was taken by Penn Yan Ambulance, with support from Advanced Life Support and Dresden First Responders, to a waiting medical helicopter that flew her to Strong Memorial Hospital in Rochester, where she underwent emergency surgery for head and upper body injuries.
She remained in critical condition and on life support. On October 15th she was transferred to a hospice care facility; and died three days later.
Khouzam was serving 5-years probation for felony 3rd degree criminal mischief in Schuyler County, and 3-years probation for a 2016 DWI conviction in Geneva. He also has multiple prior arrests and contacts with law enforcement in Yates, Schuyler, Ontario, and Wayne Counties, according to Spike.
Hours before the incident – he had been released from Soldiers & Sailors Memorial Hospital, where he had been taken as a mentally ill person, who was a risk to himself or others, according to Spike – after a 911 call.
That happened around 7:22 p.m. the night before the 67-year-old was brutalized.
Khouzam was ultimately released from the hospital around 10 p.m.
Spike says the Deputies who took Khouzam to the hospital Sunday night were following a protocol through New York State Mental Hygiene Law that mandates they take an individual to the nearest facility designated for mental health care.
In 2006, Khouzam was accused of grabbing his estranged girlfriend by the throat, throwing her over a couch and into a book case. He did it in front of a 6-month-old baby. He was charged with burglary, menacing, and endangering the welfare of a child in that incident.
In 2014, he struck a Dresden resident during an incident – then punched a New York State Trooper who was responding to the 911 call. The trooper used pepper spray on Khouzam, who was transported to Soldiers & Sailors Memorial Hospital in Penn Yan for a mental health evaluation.The trooper was not injured. Khouzam was arraigned in Torrey Town Court and remanded to Yates County Jail after that incident.
Then, in 2017 he was charged with operating a motor vehicle while impaired by drugs in Ontario County.
Khouzam remains in the Yates County Jail in lieu of $1 million bail or $2 million bond, as well as being remanded without bail for the violation of probation.
Yates County District Attorney Todd Casella, who is prosecuting the case, noted that Khouzam is scheduled for arraignment on November 15th and that the charges carry upwards of a 25-year sentence if convicted.