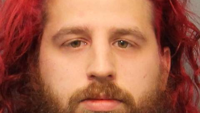 An Auburn man was arrested early Monday morning for biting his girlfriend, city police said.
Just before 4 a.m., Michael Smith, II, 26, was arrested at his apartment for violating an order of protection by biting a female victim, the Auburn Police Department said Monday.
Smith was charged with first-degree criminal contempt, a felony, and second-degree harassment, a violation, APD said.