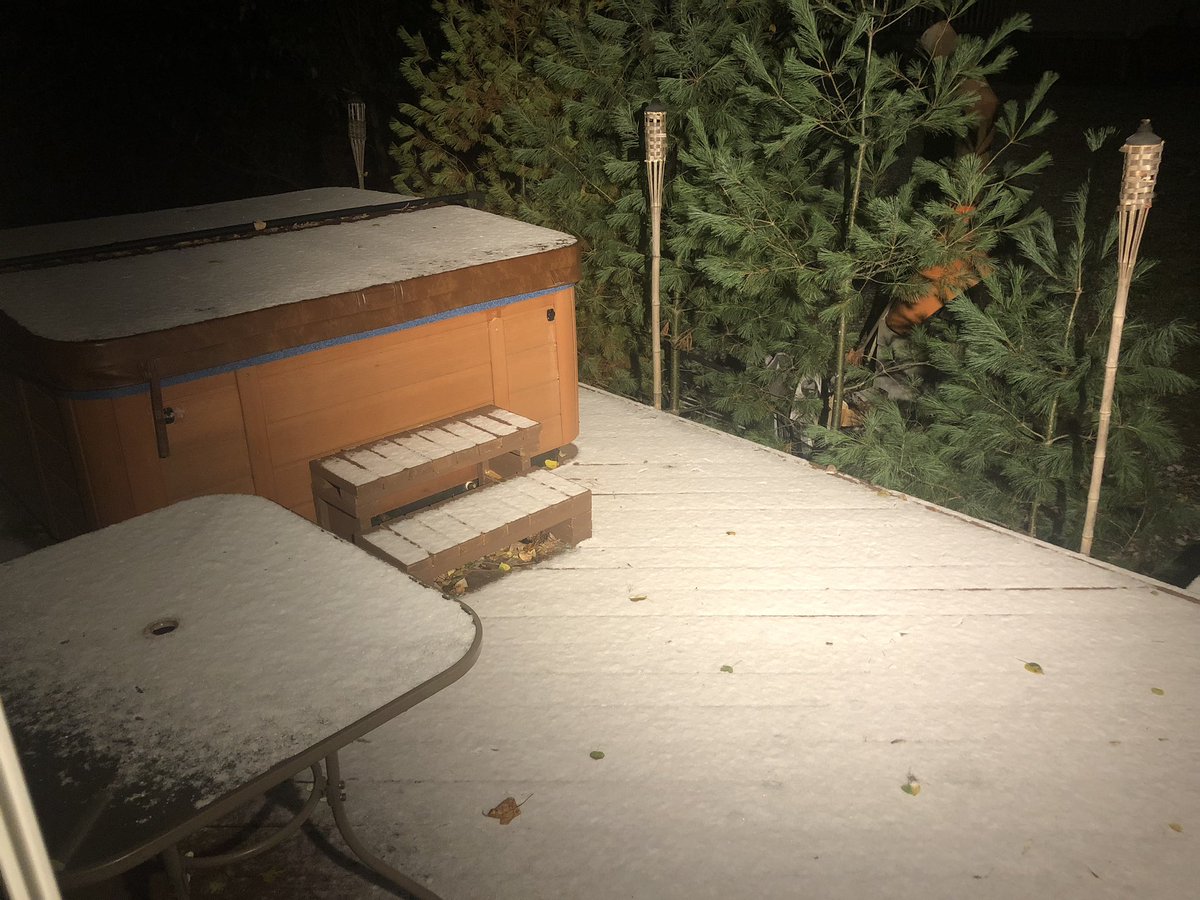 The first flakes have officially flown for some parts of the Finger Lakes.
But don't worry, it wasn't enough to impact travel.
The light dusting in some places – primarily on grassy surfaces – was just enough to remind local residents that the 80+ degree weather we experienced a week, or so, ago was an anomaly.
Cooler, perhaps outright cold weather – is the more-likely reality moving forward.
There will be a quick break from the cold weather on Friday – as temperatures push toward 60 degrees. However, that break will be short-lived as things get cold again this weekend; bringing with it another shot for snow showers.
Thursday's Almanac
Sunrise: 7:28 am
High: 44
Sunset: 6:24 pm
Low: 39
The latest forecast information from the FingerLakes1.com Weather Center.
---
Here is State Route 14A between Penn Yan & Dundee in the western Finger Lakes. This is representative of higher elevations from Route 20 south over the central & southern tier of NY state and CNY. Let's also be aware of wetness on roads to become slick & icy if not treated! #NYwx pic.twitter.com/6u8zKjdu73

— Peter Hall (@PeteWeatherBeat) October 18, 2018
Leftover lake effect rain/snow showers early this morning will end by mid day then sunshine! Temperatures remaining below normal today but there will be less wind.
A nice but brief warm up Friday as temperature go well into the 50s to lower 60s. #nywx pic.twitter.com/V87H4PbSJc

— NWS Buffalo (@NWSBUFFALO) October 18, 2018
A little slushy snow on the car this morning. pic.twitter.com/tdiKYl2etg

— Rich Caniglia (@whec_rcaniglia) October 18, 2018
Here's a sneak peak at the upcoming weather for CNY/NEPA. pic.twitter.com/EqYRimP6p8

— NWS Binghamton (@NWSBinghamton) October 18, 2018
Happy fall, everyone. ❄️ #Fairport #ROC pic.twitter.com/w9zcbhkWmJ

— LlA T0BlN (@LlAT0BlN) October 18, 2018
34° this morning in Rochester. That's the lowest temperature we have seen so far this season. Here's a look at some other lows across our region. pic.twitter.com/OWThD8DSvS

— Josh Nichols (@wnywxguy) October 18, 2018
@MollyTott a light dusting @inletny pic.twitter.com/QerbhLBoq5

— Shawn Hansen (@Poleguy03) October 18, 2018
C'mon people it's October in #WNY, we had amazing summer that started in May and went through early this month! A few snow flakes, which is fairly typical this time of year, won't hurt you. Anyways milder pattern looks to return in November #ElNino #EmbracetheWeatherDontComplain pic.twitter.com/HhLk132Tc0

— Dan Russell (@Dan_Weather_Man) October 18, 2018
The calendar says it's fall but it looks like winter! This is what a viewer saw outside of his house this morning! Stay warm everyone pic.twitter.com/5CQwZi6DFt

— Stevie Daniels (@StevieDanielsWX) October 18, 2018
Kay Kehoe sent us this picture of snow on the pumpkins! She didn't tell us where she took this picture from, but my guess is somewhere over the central and southern tier higher elevations! ❄️🎃#NYwx pic.twitter.com/jdSLpDqAuY

— Peter Hall (@PeteWeatherBeat) October 18, 2018