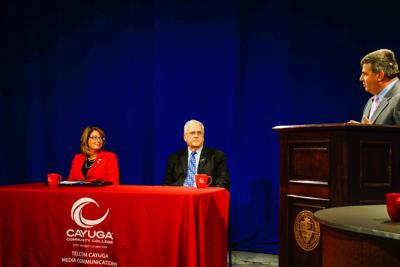 While the 54th New York Senate District candidates generally agreed on many issues, a battle of governing style arose during the candidate debate held at Cayuga Community College on Tuesday.
Two years ago, incumbent Pam Helming, R-Canandaigua, vied for the Senate seat against Kenan Baldridge and Floyd Rayburn. Baldridge, the Democratic candidate from the town of Rose, has come back this year for a rematch.
In terms of water quality, both candidates agreed that there is much work to be done, but it likely won't come through more regulations for farmers. The candidates also both opposed another trash incinerator coming to the area, and both thought, when it came to the Child Victims Act, there isn't a need to have a time limit on the statute of limitations.
A place of disagreement, however, were casinos — particularly del Lago — and if the state should help out monetarily if needed.
"It's such a delicate balance. you give one thing to one industry and it changes the scope of the entire state gambling, so I think we have to be very careful with what we do," Helming said. "I'm not in favor of taxpayer handouts to private businesses … (but) I want to make sure that everyone is treated fairly."
Helming said Seneca and Wayne counties get significant money from del Lago, and casinos both employ thousands and help farmers stay in business.
The Auburn Citizen:
Read More