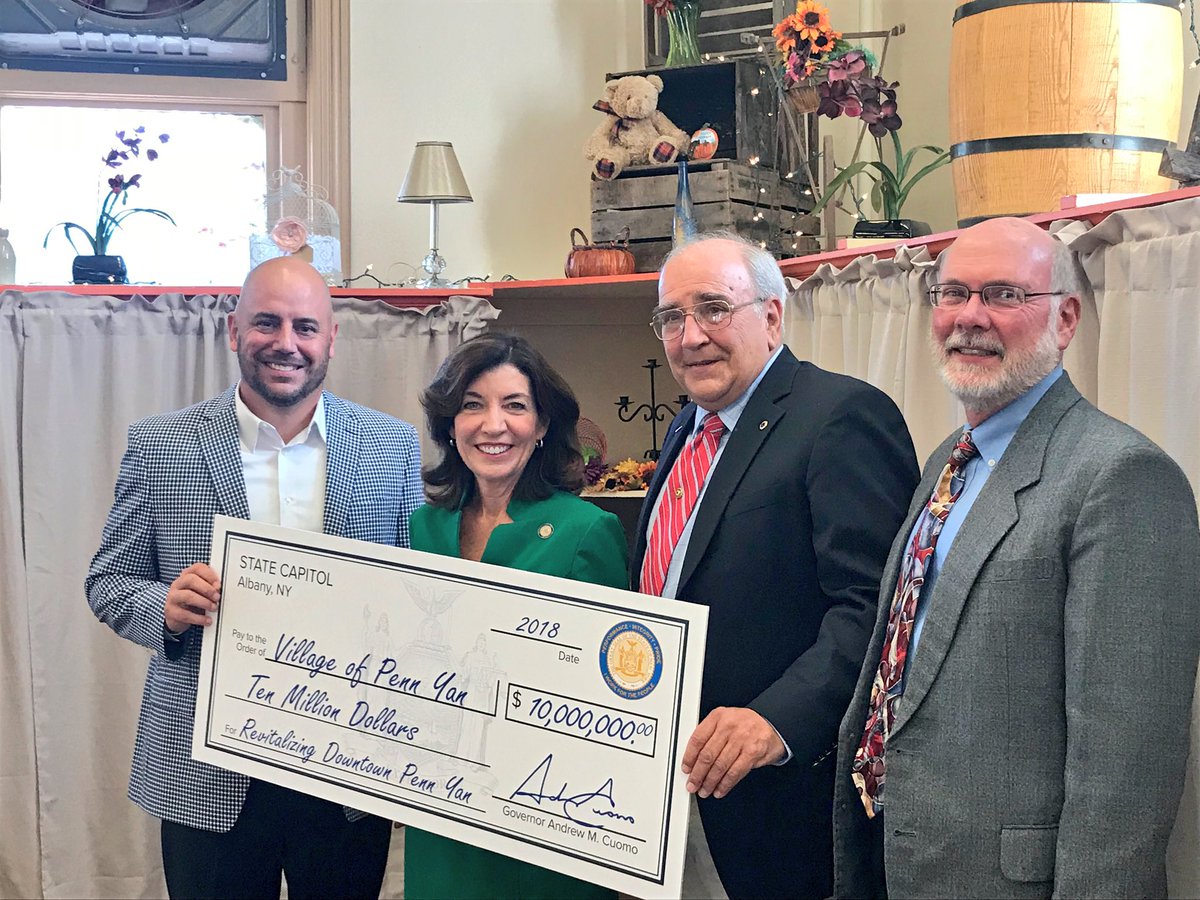 Governor Andrew M. Cuomo announced that the Village of Penn Yan will receive $10 million in funding as the Finger Lakes winner of the third round of the Downtown Revitalization Initiative.
As in the first two rounds of the DRI, one municipality from each of the state's 10 regional economic development regions is selected as a $10 million winner, marking another overall state goal to target $100 million in funding and investments to help communities boost their economies by transforming downtowns into vibrant neighborhoods where the next generation of New Yorkers will want to live, work and raise a family.
Both Newark and Seneca Falls were considered finalists in this round for the DRI.
"The Downtown Revitalization Initiative invests in the unique strengths of local communities to transform downtowns into central hubs of economic activity for the region," Governor Cuomo said."This significant investment in Penn Yan will help attract visitors to the area, spur economic growth and increase job opportunities for the village and the entire Finger Lakes region, creating a stronger, more prosperous New York for all."
"The Finger Lakes region is home to some of the greatest natural assets in the world, and I have seen firsthand how Penn Yan has been enriched by our growing upstate economy and booming craft beverage industry," said Lieutenant Governor Kathy Hochul, who made the announcement. "Penn Yan is at the heart of the Finger Lakes, with a historic downtown that is primed for significant investment. With $10 million from the Downtown Revitalization Initiative, the village will be able to move forward with plans to improve housing, tourism assets, and transportation connections."
The DRI is a component of Finger Lakes Forward, the region's blueprint for economic growth.
Penn Yan
The Village of Penn Yan, a hub of business and recreational activity surrounded by bucolic farmland, leads the Finger Lakes Region in manufacturing job growth. Rich in history, the Village's downtown is comprised of lovely tree-lined streets, intact historic buildings, and beautiful landscaping. While so many other main streets have lost out to strip mall developments and big box retailers, Penn Yan's downtown is still the center of commerce for residents and visitors alike. However, a number of barriers, including the impact of recent extreme floods and lack of housing options, are suppressing Penn Yan's full potential for leveraging private investment and increasing economic opportunity for all. The DRI planning effort in Penn Yan will focus on overcoming these barriers and promoting sustained, year-round economic growth by concentrating on four areas: leveraging the abundant natural assets, capitalizing on the growing craft food and beverage industry, using the local art scene as an economic engine, and capturing the intellectual capital that lives and vacations in the Village.
I've seen firsthand how the Finger Lakes is booming because of our growing upstate economy and craft beverage industry.

With an infusion of $10M, charming Penn Yan will explode with new energy from downtown redevelopment and housing for locals and millennials. pic.twitter.com/aQ77fnwcG8

— Governor Kathy Hochul (@GovKathyHochul) October 5, 2018
The Finger Lakes Regional Economic Development Council went through a competitive review process of proposals from communities throughout the region and considered all eight criteria below before recommending Penn Yan as its nominee for winner:
The downtown should be compact, with well-defined boundaries;
The municipality, or the downtown's catchment area, should be of sufficient size to support a vibrant, year-round downtown;
The downtown is able to capitalize on prior or catalyze future private and public investment in the neighborhood and its surrounding areas;
There should be recent or impending job growth within, or in close proximity to the downtown that can attract workers to the downtown, support redevelopment and make growth sustainable;
The downtown must be an attractive and livable community for diverse populations of all ages, including existing residents, millennials and skilled workers;
The municipality should already embrace or have the ability to create and implement policies that increase livability and quality of life, including the use of local land banks, modern zoning codes and parking standards, complete streets plans, energy efficient projects, green jobs, and transit-oriented development;
The municipality should have conducted an open and robust community engagement process resulting in a vision for downtown revitalization and a preliminary list of projects and initiatives that may be included in a DRI strategic investment plan; and
The municipality has identified transformative projects that will be ready for implementation with an infusion of DRI funds within the first one to two years.
Penn Yan's third round DRI win entitles it to receive $10 million in state funding and investments to revitalize its downtown neighborhoods and generate new opportunities for long-term growth. Penn Yan now joins Geneva and Batavia, which were the Finger Lakes region's winners in the first and second DRI rounds, respectively.
Empire State Development President, CEO & Commissioner Howard Zemsky said, "Congratulations to The Village of Penn Yan for a solid DRI-winning plan that is collaborative, community-based and will create transformative results."
New York Secretary of State Rossana Rosado said, "Penn Yan's downtown is a vibrant part of the heart of the Finger Lakes Region. With Downtown Revitalization Initiative funds, Penn Yan will capitalize on its strategic location and surrounding businesses, further enhancing economic development and tourism for the Village and entire region."
New York State Homes and Community Renewal Commissioner RuthAnne Visnauskas said,"Through Governor Cuomo's Downtown Revitalization Initiative, these community-led, targeted investments will combine with HCR's $442 million investment in the Finger Lakes over the last seven years that has created affordable housing for about 14,650 residents to help ensure that as Penn Yan's economy grows, all New Yorkers have the opportunity to take part. In New York State, we are lucky to have a Governor who understands how to build inclusive, long-term economic success."
Senator Thomas F. O'Mara said, "The village of Penn Yan has exciting foundations on which to build and we're hopeful this critical state investment in Penn Yan's future will lead to short- and long-term community revitalization and regional economic growth. We're grateful to the Cuomo administration, our Regional Economic Development Council, and the important local leadership and public input that keeps the village moving forward as an exciting and fantastic cornerstone of the entire Finger Lakes region."
Assembly Member Philip A. Palmesano said, "The Downtown Revitalization Initiative is right at home in Penn Yan. The downtown area is ripe for growth and ready to usher in the next generation of residents and businesses."
Finger Lakes Regional Economic Development Council Co-Chairs Monroe Community College President Dr. Anne Kress and Rochester Chamber of Commerce President & CEO Bob Duffy said,"The Village of Penn Yan is truly a deserving candidate for this investment that will focus on transformative improvements for the downtown area that are sure to benefit both residents and visitors alike. We are excited to be a part of these revitalization efforts and thank Governor Cuomo for recognizing the need in this beautiful community and for supporting it through this important investment."
Steve Griffin, CEO of the Finger Lakes Economic Development Center, said, "This investment in the village of Penn Yan will reap enormous benefits for the community and the entire region. By making strategic investments in downtown communities, the Governor's Downtown Revitalization Initiative is attracting more jobs, businesses and tourists to the exciting Finger Lakes Region. I look forward to seeing the positive effects these projects will have on this deserving community."
Penn Yan Mayor Leigh MacKerchar said, "We are delighted and thrilled to be selected as the winner of Governor Cuomo's Downtown Revitalization Initiative. This investment will spur further growth while enhancing our current assets throughout the community. This is a great day for Penn Yan and the entire Finger Lakes region."
Penn Yan will now begin the process of developing a Strategic Investment Plan to revitalize its downtown with up to $300,000 in planning funds from the $10 million DRI grant. A Local Planning Committee made up of municipal representatives, community leaders, and other stakeholders will lead the effort, supported by a team of private sector experts and state planners. The Strategic Investment Plan for downtown Penn Yan will examine local assets and opportunities and identify economic development, transportation, housing, and community projects that align with the community's vision for downtown revitalization and that are poised for implementation. The downtown Penn Yan Strategic Investment Plan will guide the investment of DRI grant funds in revitalization projects that will advance the community's vision for its downtown and that can leverage and expand upon the state's $10 million investment. Plans for the DRI's third round will be complete in 2019.