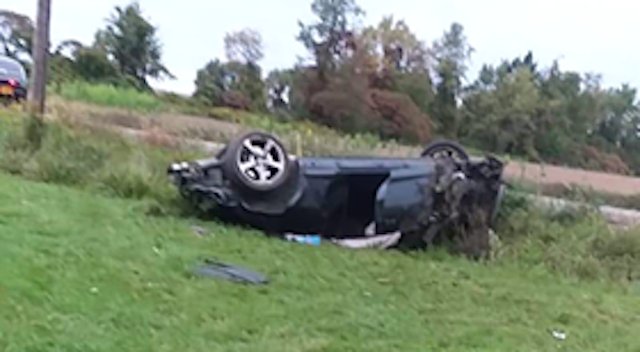 After flipping a vehicle in a ditch several times on Monday – the driver of that car fled into the woods, resulting in an hours-long search.
New York State Police Sgt. Jay Welsted, of the Auburn barracks, said the man allegedly told a witness that he "couldn't be involved in anything" before he disappeared into the woods, according to the Auburn Citizen.
The driver, identified as 35-year-old Joseph M. Grant left the roadway around 1438 Route 104A in Sterling before rolling over several times. The vehicle was completely destroyed, and Grant fled into the woods.
First responders from Cayuga and Wayne counties responded to the scene.
A search for Grant commenced just before 5 p.m. and lasted until well after 9 p.m., almost as late at 10 p.m., Welsted said. The sheriff's offices helped establish a perimeter, a local fire department closed down roads and Wayne County's canine unit aided the search, state police told the Citizen.
"We were worried about him having a head injury," Welsted said, "and (him) not coming out of the woods."
Troopers were able to make arrangements to meet Grant at his residence in Fair Haven early-Tuesday morning. He only suffered minor injuries, and according to police, was saved by his seat belt and air bags.
The investigation is ongoing and potential charges are pending.