A 35-year-old Auburn man has been charged with an armed robbery attempt after an incident on Monday.
Auburn Police say Matthew Gauthier walked in to Custom Cleaners shortly before 12:45 pm armed with a knife and ordered two employees to the front counter, but left before he could get anything.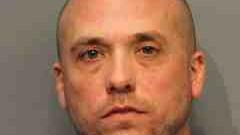 Police say Gauthier fled in one vehicle, which was found abandoned in a parking lot shortly after the alleged attempted robbery. A second vehicle was later found with Gauthier allegedly inside.
Authorities say the suspect was uncooperative and waived a knife at approaching officers, and was subdued through the use of a taser.
Gauthier has been charged with attempted armed robbery and criminal possession of a weapon. Police say Gauthier remains in custody pending arraignment.
Reporting by Joe Salzone, Cayuga County reporter for FingerLakes1.com.