The Cayuga Nation has sworn in nine additional officers to its police force.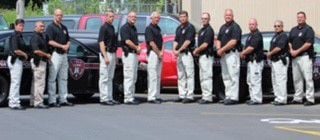 Libert J. Caloia III, Thomas J. O'Connor, Robert S. Griffin, David T. Hearn, Thomas F. Rathbun, Michael J. Roden, Luis O. Rodriguez, Kenneth L. Smith and Adam Stenberg will join Col. Mark Lincoln, Capt. James G. Stowell and Sgt. June E. Worden on the force. According to a press release, most of the officers are 20-plus-year veterans of the New York State Police while a few others came from from the Syracuse and Auburn police departments.
"We welcome these new officers to our police force," said Clint Haftown, the nation's federal representative. "We are confident that with their track records in law enforcement these officers will serve with distinction."
Last fall, Halftown announced that the nation planned to form an office of public safety.
The Citizen:
Read More