The Doubledays' offense finally erupted during their Game 3 matchup against the IronBirds after fighting tooth-and-nail for runs this past series. Timely hitting, solid pitching, and help from a pair of Aberdeen errors helped secure Auburn it's 8-2 rubber game win over the Iron Birds.
There was no shortage of big hits for Auburn throughout the afternoon. After two walks and a single in the fourth inning, Phil Caulfield capitalized on his bases loaded opportunity and collected three RBI on a two-out triple to take an early 3-0 lead.
Start off your Monday morning with a #ShaddyLight — batting leadoff for the Doubledays as we go for the series win against the IronBirds! pic.twitter.com/X9oPlr21F3

— Auburn Doubledays (@Doubledays) July 16, 2018
The fourth was just the first of three consecutive innings where the Doubledays managed to load the bases and make Aberdeen pay. While the Doubledays squandered their first opportunity with the bases juiced in the third inning, they added on two insurance runs in the fifth to put Auburn ahead, 5-0.
A throwing error with two runners on brought the first run across in the inning when Telmito Agustin scored from second base, and a walk by Pablo O'Connor loaded the bases for the third straight inning. While they did manage to push across another run in the inning, it came as a result of a rally-killing double play, and a fly out to left field ended the inning.
The Doubledays were just as effective on the mound, exemplified by a three-inning, one-hit outing by Auburn starting pitcher Jackson Stoeckinger. After getting roughed up to begin the 2018 season in 11 outings with the Hagerstown Suns, Stoeckinger has finessed his way on the bump for Auburn – allowing just one earned run in eight innings.
Aberdeen's only action of the afternoon came against Yonathan Ramirez, who allowed two solo runs in the sixth and seventh innings. He was rewarded with the win despite allowing seven hits and zero strikeouts in his three innings of work.
Auburn managed to tack on three runs from the sixth to the ninth innings despite leaving 10 runners on base over the course of the game and going 3-for-17 with runners in scoring position. The Doubledays' 8-2 win was biggest offensive showing since June 28, when Auburn scored 14 against Batavia.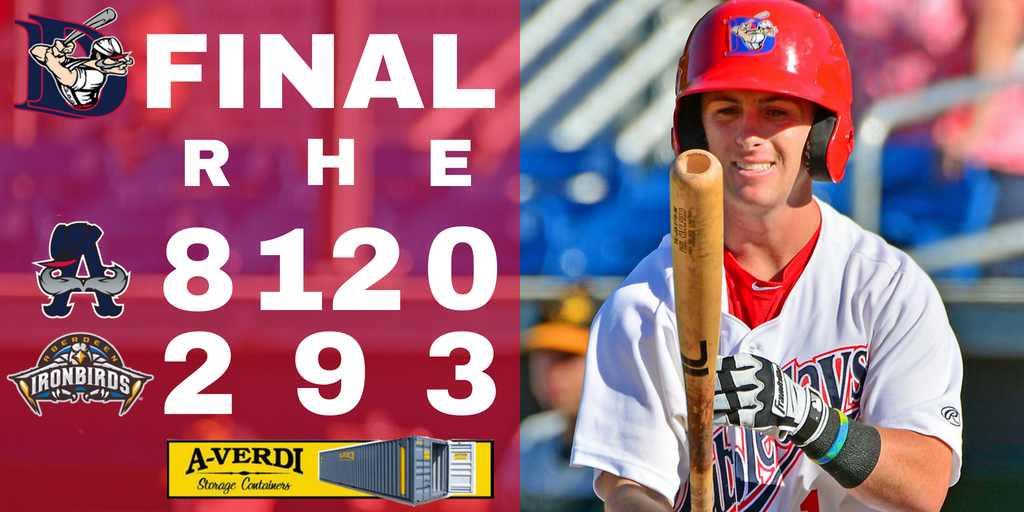 The Doubledays will be back in action Tuesday at Falcon Park to take on the first place Mahoning Valley Scrappers at 6:30. You can listen live on FL1 Radio and check out the Doubledays pregame and postgame shows on FingerLakes1.TV.