A concerned parent is asking for the public's help identifying a dog that bit his son while riding a bicycle at the beginning of the Keuka Trail.
Erech Lenchert says his son was riding a bicycle at the start of the trail, when a leashed dog leapt outward — biting the young boy.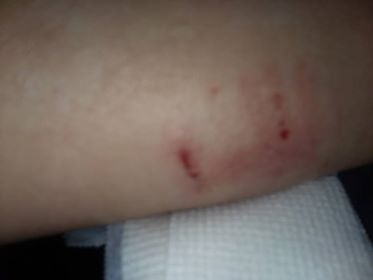 The 11-year-old suffered visible wounds as result of the incident. According to his father, the woman, who did not identify herself — and was walking several dogs — left without anything more than a quick apology.
"The dog wasn't restrained properly," added the boy's father. "I don't want this to happen to anyone else."
The child had to receive rabies shots as result of the bite. "We don't know the dog or its owner," Lenchert concluded. "Any information to help identify the person or dog with authorities would be helpful."
This story will be updated as more information becomes available.